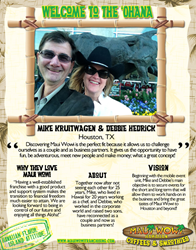 It gives us the opportunity to have fun, be adventurous, meet new people, and make money; what a great concept.
Houston, Texas (PRWEB) November 05, 2014
Maui Wowi Hawaiian says 'Howdy' and 'Aloha' to its newest franchisees, Mike Kruitwagen and Debbie Hedrick from Friendswood, Texas, a city just outside of Houston. The fresh fruit smoothie and premium Hawaiian coffee retailer has a growing presence in the market, making it an ideal time for Kruitwagen and Hedrick to begin their business and start a new life together as entrepreneurs.
The two recently reconnected after more than 25 years. During their time apart, Kruitwagen made a life for himself as a chef in Hawaii where he became accustomed to the laidback island life. Back on the mainland, Hedrick raised two sons and built a successful career in the corporate world.
Now, with their lives joined together, they set forth on a new journey with new challenges. As business partners and as a couple, this adventure has reunited them and bestowed them with more excitement for the future as they work to bring the spirit of the islands to their Texas community.
"When we discovered Maui Wowi, we knew that it was the perfect fit because it allows us to challenge ourselves as a couple and as business partners," said Kruitwagen. "It gives us the opportunity to have fun, be adventurous, meet new people, and make money; what a great concept."
There are currently over 50 Maui Wowi units in operation throughout the state of Texas, which include mobile event carts, kiosks, and brick and mortar locations. Kruitwagen and Hedrick have decided to begin with the mobile business model and a catering unit, which opens doors to endless opportunities at festivals, events, and nontraditional venues.
With a solid brand following already secured, their primary objective will be acquiring events for the short and long term. Building their connections within the community, Kruitwagen and Hedrick are ready to jump in with both feet. They intend on working in the business, allowing them to get outside, blend smoothies, and strut their stuff in fun Hawaiian shirts.
"Having a well-established franchise with a good product and support system makes the transition to financial freedom much easier to attain," said Kruitwagen. "We are looking forward to being in control of our future and enjoying all things Aloha!"
About Maui Wowi Hawaiian
Since 1982, Maui Wowi Hawaiian has embraced the Hawaiian culture and has been serving paradise in a cup since the day it began, over 30 years ago. From event carts, mall kiosks and stand-alone retail locations Maui Wowi Hawaiian offers premium, all-natural, gluten-free, fresh-fruit smoothies, as well as gourmet Hawaiian coffees and espresso beverages. The brand has more than 450 operating units in seven countries and an online store, shop.mauiwowi.com. For more information, visit http://www.mauiwowifranchise.com.