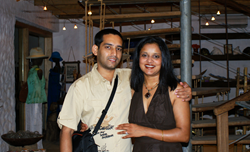 Without the support of the Maui Wowi franchise system, my new business would not be possible.
Greenwood Village, CO (PRWEB) March 17, 2014
Maui Wowi, known for its premium, fresh fruit smoothies and gourmet Hawaiian coffee, will open a new island-themed shop in Oceanside, Calif. The new location, situated at Ocean Place Cinemas on the corner of Mission Ave. and N. Coast Highway is slated to open in May.
The Maui Wowi in Oceanside is owned and operated by Nandini Chatterjee, a United Kingdom native who is fulfilling her dream of business ownership by moving to California with her husband and young daughter and opening their first location. Chatterjee has a franchise agreement that allows her to open up to three Maui Wowi units with a variety of flexible business models to choose from.
The journey began with finding the perfect franchise opportunity. Once she and her husband Samrat discovered Maui Wowi, they were immediately attracted to the fun Hawaiian themed business. Together, they completed the process and were awarded a franchise. Chatterjee then worked with the Maui Wowi launch program to find a worthy real estate location in the U.S., which would be the catalyst for receiving a Visa.
After completing the lengthy Visa application process and a location in place, Chatterjee, her husband, and young daughter were all granted their E-2 Visas. Chatterjee obtained her Visa after signing the real estate lease for the new location in Oceanside, as is customary in order to be approved. Now, she and her family are ready for a new beginning and to finally open their store.
"Without the support of the Maui Wowi franchise system, my new business would not be possible," stated Chatterjee. "I was near the point of exhaustion with the Visa process and almost gave up, but the continued support from the corporate office and aid in getting through each step of the franchising process led me to my ultimate goal. Now, I cannot wait to serve up fresh, Hawaiian smoothies and coffee while becoming a staple to the Oceanside community."
The California beach scene creates the perfect locale for the Hawaiian brand to expand. The new store will be the eighth location to open in the San Diego area, which includes units at Qualcomm Stadium, Camp Pendleton, and San Diego State University. California is part of the 450-unit brand's overall growth strategy to open 50 units throughout the U.S. in 2014.
"Maui Wowi loves supporting franchisees coming to the U.S. on the E-2 Visa program. We are honored to help folks navigate the process and provide an opportunity to chase the American Dream of business ownership. We are simply thrilled to have Nandini and her family here on the beaches of the USA and look forward to helping others accomplish their goals," says Justin Livingston, Vice President of Business Development at Maui Wowi.
Maui Wowi is seeking passionate franchisees with the resources and capacity to create and manage a first-of-its kind franchise investment opportunity in the fast casual or event business. Maui Wowi offers four unique business models for prospective franchisees interested in a low-cost start up with scalability potential, including mobile carts, catering units, kiosks and brick and mortar stores. Depending on the format, start-up costs range between $75,000 and $300,000.
To inquire about franchise opportunities, visit http://mauiwowifranchise.com/.
About Maui Wowi Hawaiian Coffees & Smoothies:
Since 1982, Maui Wowi Hawaiian has embraced the Hawaiian culture and has been serving paradise in a cup since the day it began, over 30 years ago. From event carts, mall kiosks and stand-alone retail locations Maui Wowi Hawaiian offers premium, all-natural, gluten-free, fresh fruit smoothies, as well as gourmet Hawaiian coffees and espresso beverages. With over 450 operating units in seven countries, Maui Wowi Hawaiian has truly gone "Global" by adding an online store, shop.mauiwowi.com. Now even more customers can experience the prized gourmet Hawaiian coffees and taste the 'Aloha Spirit' with a 'Click-of-a button!' To learn more information about Maui Wowi Hawaiian's, products, locations, or flexible, low cost franchising opportunities, visit http://www.mauiwowifranchise.com.