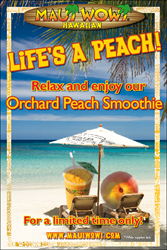 The Orchard Peach smoothie has become so popular and gives everyone another reason to look forward to summer.
Greenwood Village, Colo. (PRWEB) May 24, 2014
Just in time for summer, Maui Wowi Hawaiian welcomes its popular Orchard Peach smoothie back to the menu. An all-natural, mouthwatering refreshment to indulge in, the seasonal flavor is back by popular demand and available while supplies last. Beginning May 24th, the summer smoothie favorite can be found at participating U.S. fixed retail locations and mobile event carts.
"The Orchard Peach smoothie has become so popular and gives everyone another reason to look forward to summer," said Mike Weinberger, CEO of Maui Wowi. "Each year, we can't wait to see the smiles on the faces of our customers when we bring back the fun, fresh, all-natural flavors that make this smoothie the ultimate summertime treat."
Maui Wowi, an international franchise specializing in Hawaiian coffees and fresh fruit smoothies, first introduced the new flavor in 2012, receiving rave reviews from customers, demanding the menu item's return. Made with all-natural peach fruit purée, live active yogurt, and a fresh banana, the Orchard Peach smoothie has quickly become a seasonal favorite.
Other flavor varieties available at Maui Wowi include strawberry banana, piña colada, black raspberry, lemon wave, mango orange, kiwi lemon-lime and many more through endless combinations and seasonal favorites like the Orchard Peach.
Orchard Peach will be available starting May 24th and will continue throughout the summer months, while supplies last. Maui Wowi can be found at many outdoor events such as festivals and farmer's markets, as well as retail stores, mall kiosks and catered events for schools, graduations, and much more.
For more information, please visit http://www.mauiwowi.com.
About Maui Wowi Hawaiian Coffees & Smoothies
Since 1982, Maui Wowi Hawaiian has embraced the Hawaiian culture and has been serving paradise in a cup since the day it began, over 30 years ago. From event carts, mall kiosks and stand-alone retail locations Maui Wowi Hawaiian offers premium, all-natural, gluten-free, fresh fruit smoothies, as well as gourmet Hawaiian coffees and espresso beverages. With over 450 operating units in seven countries, Maui Wowi Hawaiian has truly gone "Global" by adding an online store, shop.mauiwowi.com. Now even more customers can experience the prized gourmet Hawaiian coffees and taste the 'Aloha Spirit' with a 'Click-of-a button!' To learn more information about Maui Wowi Hawaiian's, products, locations, or flexible, low cost franchising opportunities, visit http://www.mauiwowifranchise.com.
# # #