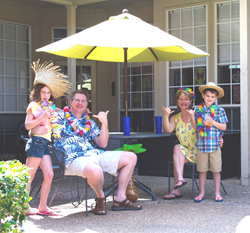 I really think that this will be a perfect spot to build our brand recognition and get more people talking about Maui Wowi.
Greenwood Village, CO (PRWEB) May 24, 2014
Maui Wowi Hawaiian, a Texas favorite known for its fresh fruit smoothies and Hawaiian coffees at events and venues throughout the state, is opening a new location inside the food court at The Shops at Willow Bend in the Dallas suburb of Plano, Texas. The new location, owned by franchisee and local resident Ted Wilbert, is the first in a plan of many and is slated to open this fall.
Wilbert was awarded an Empire Builder franchise agreement with Maui Wowi, giving him the rights to own up to 10 units. With the first unit underway, Wilbert is confident in the high traffic location and his ability to build awareness.
"I really think that this will be a perfect spot to build our brand recognition and get more people talking about Maui Wowi," he said. "This really is phase 1 of a larger plan, but a very crucial step. I honestly can't wait to bring the Aloha Spirit to Plano and outward from there."
The location will be the only smoothie provider inside the mall and is situated right near the main mall entrance. It will serve freshly blended fruit smoothies, as well as a full line of premium Hawaii an grown coffees and espresso drinks. Snack items and baked goods will also be offered at the location.
Wilbert has been actively promoting his business and the new Maui Wowi location. He hopes to partner with other franchisees in the area to cross promote each other's businesses and help customers locate Maui Wowi at community events. Maui Wowi has a unique culture in their franchise system where franchisees work together as an 'ohana (family) to build the brand and each other's businesses.
"I have really been spreading the word among family and friends, as well as at our church and school communities. Everyone is just so excited and can't wait for us to open," said Wilbert.
Since the store will be inside the mall, Wilbert plans on attracting the mall employees as customers by providing them with special incentives and discounts once the store opens. The location opening date is tentatively set for this fall.
For more information regarding the location or to find out about franchise opportunities in your area, please visit http://www.mauiwowifranchise.com or call 1-877-849-6992.
About Maui Wowi Hawaiian Coffees & Smoothies:
Since 1982, Maui Wowi Hawaiian has embraced the Hawaiian culture and has been serving paradise in a cup since the day it began, 30 years ago. From event carts, mall kiosks and stand-alone retail locations Maui Wowi Hawaiian offers premium, all-natural, gluten-free, fresh-fruit smoothies, as well as gourmet Hawaiian coffees and espresso beverages. With over 450 operating units in seven countries, Maui Wowi Hawaiian has truly gone "Global" by adding an online store, shop.mauiwowi.com. Now even more customers can experience the prized-gourmet Hawaiian coffees and taste the 'Aloha Spirit' with a 'Click-of-a button!' To learn more information about Maui Wowi Hawaiian's, products, locations, or flexible, low cost franchising opportunities, visit http://www.mauiwowifranchise.com.