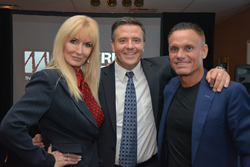 I highly recommend Maverick Entrepreneurs for anybody who is serious about raising capital and serious about making money. Michael Fletcher
Saint Petersburg, Florida (PRWEB) November 20, 2014
Maverick Entrepreneurs, the complete solution for capital-raising entrepreneurs, just launched its revolutionary 3-Step/3-Option Funding Solution with its first Multi-Day Live Boot Camp Seminar October 23-27 in St. Pete Beach, Florida. The class explained every aspect of the capital-raising process including:

How to develop a strong and balanced business model that stands up to scrutiny
How to properly prepare your materials for the funding process, including developing a thorough business plan with justifiable 5-year financial projections
Understanding corporate and deal structuring and valuations, and
How to prospect for, pitch and close investors.
On the last day of the boot camp, entrepreneurs will deliver their pitch to a panel of investors who are looking for deals to fund – what we call our "Investor Combat Experience".
All entrepreneurs that graduate from Maverick's training will be given unlimited online access to Maverick's network of thousands of investors as well as potentially to be funded by Maverick itself in one of our funds.
One panel member was Kevin Harrington, a celebrity Shark who appeared on ABC's top-rated show, SharkTank. Harrington has signed a strategic and equity partner with Maverick that includes staring in an upcoming 30-minute infomercial, national media promotions and co-authoring The Maverick Battle Guide to Raising Capital with Maverick's CEO, Erica Drake, which is now in its second printing.
Harrington shares in Maverick's Guide his knowledge of the total process of raising capital including the critical elements of preparation and pitching investors, particularly what it takes to deliver a fully prepared and rehearsed pitch. Harrington has sold over $4 billion of products in his career and invented the infomercial industry. Some of his products include the Ginsu knives, the Great Wok of China and the CitiKitty® Cat Toilet Training Kit, which was featured on Shark Tank. Harrington and Maverick teach entrepreneurs that raising capital is a PROCESS that involves preparation and knowledge of financial concepts and jargon, which will prepare them to properly present their companies to investors.
Entrepreneurs also will have access to Maverick's secure state-of-the-art Web site that matches them to investors similar to an online dating service. The Web site also will allow entrepreneurs to store all of their due diligence documents so investors can easily access them and use the Web site's email system to make communication easier. (http://www.MaverickEntrepreneurs.com)
Veteran entrepreneur Erica Drake formed Maverick Entrepreneurs after nearly a decade of consulting with entrepreneurs who were looking to raise capital. Drake began her own entrepreneurial career when she founded, funded and sold three businesses in the travel industry. Over the past 20 years, Drake expanded her expertise in capital-raising by working with top legal, financial and investment advisors and has developed a worldwide network of 3,000+ investor contacts through her business and consulting experience.
Maverick has published the national training schedule for its Live Boot Camp and those details are available on its web site. Entrepreneurs will go through 2 days of intensive web training prior to the training to prepare them for the class and then two days of live training that polishes each entrepreneur's business model, financials, pitch and presentation. On the fifth day each entrepreneur will pitch their companies to a panel of real investors that may include Kevin Harrington. These entrepreneurs that participated in the October training will be part of Maverick's national infomercial with Kevin Harrington. In 2015, Maverick will offer training seminars nationwide, as well as Webinars of this training seminar for worldwide availability. See Website Below or visit http://www.MaverickEntrepreneurs.com