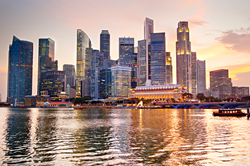 "Singapore's economic growth is gathering significant speed and is a bright, shining example to the world of productivity and hard work."
Salt Lake City, UT (PRWEB) June 12, 2014
Max International, LLC, a world leader in glutathione-supporting supplementation that aids in the body's natural ability to perform at its optimum wellness, announced today that they will be hosting a day-long event to celebrate the three-year anniversary of the opening of its Singapore office. At the event, President Jim Stevralia of Max International will hold a launch presentation for their latest product, Meta-Switch weight loss system.
The celebratory anniversary conference and dinner will take place at the Hilton Singapore Hotel on Orchard Road on June 14, 2014 from 1:00 pm to 4:30 pm with an invitation-only dinner to follow from 5:00 pm to 7:00 pm. Topics to be presented include the company vision and future with Max International's President Jim Stevralia, the launch of Meta-Switch Weight Loss System as well as the topic of Glutathione Technology with Dr. Capuli.
As one of the most anticipated product launches in this market, the release of the scientifically-proven Meta-Switch weight loss system will be showcased at this year's anniversary event as it emerges into the Singapore market. The Meta-Switch system is a two-step process that works improve the body's metabolic system, while also curbing the body's appetite serving as a fiber supplement. The product is designed to regulate the cellular energy, metabolism and glutathione levels, engaging the body's master switch known as the "AMPK" (adenosine-monophosphate-activated protein kinase).
The event will also be full of field recognition along with participation from Singapore's Diamond rank associates. Triple-Diamonds Hd Yco from the Philippines and Chad Statham from the US are among the guest speakers who will speak on their inspiring journey with Max.
"Singapore presents an exciting dynamic for Max by virtue of its strategic location in Southeast Asia and close proximity to our Philippines operations in Manila," said Dave Bagley, Co-CEO. "We opened Singapore in 2011 and one of the many reasons we decided to open in Singapore is due to the fact Singapore's economic growth is gathering significant speed and is a bright, shining example to the world of productivity and hard work. It has brought massive opportunity and long term growth for Max Associates."
For more information concerning the event or to learn how to register for the event contact: events(at)max(dot)com.
About Max International, LLC:
Max International, LLC was founded in 2007 and currently conducts operations in the United States, Canada, Australia, New Zealand, Columbia, El Salvador, Singapore, the Philippines, Hong Kong, and Ghana through a direct sales force, made up of more than 100,000 home-based distributors. Its line of uniquely formulated health products employ proprietary health technology, including the patented RiboCeine™ compound, a revolutionary nutrient that helps promote healthy cell functioning and overall well-being. The founder of Max Intl., Steven K. Scott, started the company to pursue his dream of empowering people throughout the world, seeing the opportunity to share the groundbreaking products with others to help promote wellness and health.