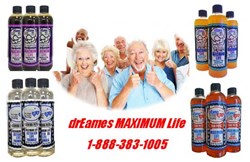 Henderson, Nevada (PRWEB) November 07, 2013
It is difficult to find a nutritional company that efficiently serves both human and pets at the same time. DrEames Maximum Life fits this bill correctly. With their newly launched website: http://dreamesmaximumlife.com, the emphasis on providing liquid vitamins, vitality products, longevity supplements and antioxidants for both humans and pets has become edgier and more tech-savvy. The website offers more information regarding the complete array of products that are readily available for the market to buy. This includes Maximum Life Restoration Therapy and Longevity Booster for people as well as Maximum Life Dietary Supplement for pets and Senior Pets Extended Life Formula. The site offers 30 day unconditional money-back guarantee. Membership is also available so privileged individuals can get access to "Members Only products." Members also get to have other perks such as free products and shipping. There are five membership categories including: Presidential, Platinum, Gold, Silver and Bronze. The site also offers an online shopping cart where guests and members can easily shop for products they like and pay online.
Maximum Life first dedicated its revolutionary food supplement technology in the form of liquid vitamins and minerals for pets due to the owner's firsthand problems with his pet dog named "Zero" turning limp due to injuries. From that day forward, the company has been synonymous to "supplements that make pets live longer and healthier." They soon branched out to providing the same technology for human supplementary consumption.
The ingredient that made drEames Maximum Life products revolutionary is Liquid Taurine, an amino acid. With this supplement, the once ailing pets were able to recover in the most humane and comfortable method of medication possible -drinking. Liquid vitamins for pets makes sure that no matter what kind of activity, your beloved pet companion is engaged in, they will get the nutrition they need. Maximum Life's Dietary supplement for pets can be taken alongside solid food or put into a pet's water dish.
DrEames Maximum Life doesn't just cater to owners with young pets but also old pets requiring more tender, loving care. The Extended Life Formula for senior pets ensures proper bone and cartilage nourishment, antioxidant cell protection due to liquid Taurine that easily penetrates at the cellular level and hormonal balance.
The liquid vitamins for pets and humans are manufactured a under FDA Registered Facilities which means that every process is done under the strictest manufacturing standards as sanctioned by the Federal Government. The company is also HACCP approved denoting that the production process is analyzed for any hazards which includes raw material production, procurement and handling, distribution and consumption. They also use only 100% natural ingredients for Maximum Life.
As one testimonial said: "I got my Maximum Life, delivered immediately to me. There was a follow up right after I received the product to make sure it arrived safely and answered any of my questions about how to take the product and to give me special instructions to get the most results of my product. They are very nice and very helpful and I like their product very much. " -Sylvia E., St. Louis, MO.
drEames Maximum Life now occupies an almost 6,000 sq. feet office and warehouse space in Henderson, Nevada. To know more details about DrEames Maximum Life products, especially liquid vitamins and antioxidants that let pets live longer, stay healthier and enjoy vitality, check out their new official website.