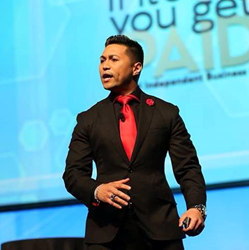 the power of Multi-Level Marketing is amazing and it creates a win-win situation for everyone involved
Miami, FL (PRWEB) March 18, 2014
Max Knowles has expanded his business to the Latin American market by stepping into Mexico with ACN's digital products. This is seen as the stepping stone for Max Knowles, as it is expected that the company will launch many more products throughout 2014 and thereafter. Soon, the company expects to penetrate other countries in Latin America as well. Max Knowles is all charged up and thrilled, as he enjoys an edge over others owing to his close proximity to Mexico.
Max Knowles, one of the most active members and Senior Vice President of ACN, Inc., welcomed the company's decision to make an entry into the Latin American market. Max has welcomed the decision with open arms and is all charged up, gearing up his current team members and carrying out an in-depth study about the Mexican market. Being based in Miami, Florida, bestows a distinct advantage to Max, as geographically Florida is quite close to Mexico. Quite a few members of Max and his wife Teanna's current team are from Mexico and parts of Latin America, or have close ties with these countries. This gives them an edge, as they are not new to this market. They already have a solid knowledge about the demographics, likes and dislikes, the choices made by the locales in this area, and they primarily understand the USP to penetrate and succeed in this region.
Max Knowles understands that every market has its unique demands, and that marketing style can be entirely different in different parts of the world; what clicks in one market may not click in another. The same is the case with the Latin American market. It has its own characteristic features, which significantly vary from the US and the other regions where ACN Inc has been operating. Therefore, entering in the Mexican market is definitely a challenging task, and both Max and his team are set to give 200% to make this venture a grand success.
As Max puts it, he and his team have shifted gears and are in "beast mode." It's been the legacy at ACN Inc to co-operate and support their members to the fullest, and this time is going to be no different. The company has already begun laying the foundation and facilities to facilitate the IBOs to take a leap and expand into the Latin American market. The Latin American market is worth billions of dollars, and Max and his team want to leave no stone unturned to make sure that they succeed in Mexico.
Max Knowles says that they consider Mexico to be a test drive. With more than 20 countries and over 700 million people in the Latin American region, the business is going to be enormous, much bigger than anything they've done so far. This is, by far, one of the biggest opportunities to grow; for the company, for him personally, as well as for everyone engaged with ACN Inc.
Max Knowles wants to make sure that he has his own team ready to charge. While he already has quite a few team members from Latin America or have an insight into the market, Max is going to add many more members to solidify his team's strength. Max says that "the power of Multi-Level Marketing is amazing and it creates a win-win situation for everyone involved." Networking has been the underlying fabric of ACN Inc, and Max is ready to do all that it takes to carry on with the same maxim ahead.
Max Knowles believes that along with growth opportunity comes responsibility. So, people eager to join Max and his team should have a burning passion within and be ready to go overboard. This is not a '9 to 5' opportunity; while the rewards are plentiful and give team members an opportunity to lead their dream life, it also means that the members must be willing and able to do hard work.
Max Knowles is a live example of how one can succeed even without experience. Max joined ACN Inc as a freshman and within 7 years rose to become one of the Senior Vice Presidents of the company. His growth continues even today.
Max Knowles welcomes dedicated, hard working individuals with zeal to enter the direct selling market to join his team. He is willing to give his whole-hearted support to people wishing to join his team.
To learn more about Max Knowles and how you can become a part of his team, visit his website blogs: maxknowles.com, maxknowleswp.wordpress.com, maxknowlesspot.blogspot.com