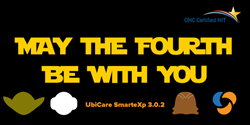 Connecting, engaging and proving that engagement is working—these are the keys to managing population health and using EHRs in a meaningful way.
Boston (PRWEB) May 04, 2015
Hospitals waste about 30% of health spending ($750 billion!) on unnecessary care each year. It takes a real Jedi to solve that problem!
With UbiCare's SmarteXp 3.0.2 release out today, hospitals will meet Meaningful Use requirements, manage population health and make meaningful connections with patients through APIs.
"Connecting, engaging and proving that engagement is working—these are the keys to managing population health and using EHRs in a meaningful way," says UbiCare CEO Betsy Weaver.
New and evolving regulations and priorities present real challenges for hospitals, so UbiCare has structured solutions to meet your needs. As of November 2014, fewer than 17 percent of hospitals had demonstrated MU Stage 2 requirements, according to the latest CMS data. As of Sept. 30, fewer than 38 percent of eligible hospitals (EHs) and critical access hospitals (CAHs) had met either MU stage in 2014.
MU and population health, along with new care models such as Accountable Care Organizations and Partnership for Patients, strive to improve the quality, access and cost of care—the Triple Aim. These models give hospitals the force of patient/provider communication, coordinated care throughout the care continuum and patient engagement. They are starting to show financial and quality improvements—but they are not simple to implement. UbiCare's SmarteXp 3.0.2 makes it easy and efficient to improve population health.
UbiCare's newest release is designed specifically to help hospitals efficiently meet the challenges of using certified EHR technology meaningfully and promoting preventative care and access to that care—effectively helping patients to be healthy.
With UbiCare's SmarteXp 3.0.2, hospitals are able to connect and engage patients digitally, prove the good forces in health and champion the future of healthcare. Plus, with enhanced API and HL7 compatibility, connections will be easy, efficient and light-years ahead.
When is comes to making patient engagement more effective and cost efficient, May the Fourth Be With You!
###
About UbiCare
UbiCare, an award-winning digital healthcare communications and technology company, creates connections that make us all better.
By creating and sustaining effective patient/provider relationships throughout the care continuum, UbiCare reduces unnecessary care costs by up to 30%. UbiCare messaging series essentially turn hospitals and health systems into patient-centered innovators, educating patients and improving satisfaction.
UbiCare earned a Dun & Bradstreet customer-service rating of 93 percent. Clients include Texas Health Resources, Boston Children's Hospital and the Department of Defense. For more information, visit http://www.ubicare.com.
Disclaimer: This EHR Module is 2014 Edition compliant and has been certified by an ONC-ACB in accordance with the applicable certification criteria adopted by the Secretary of Health and Human Services. This certification does not represent an endorsement by the U.S. Department of Health and Human Services.
UbiCare was certified under the vendor name TPR Media LLC (d.b.a. UbiCare) on December 23, 2014, for ambulatory and inpatient practice settings by InfoGard. Certification #s: IG-3230-14-0081 and IG-3230-14-0107.
Certification Criteria: 170.314(a)(15), (g)(1), (g)(4). View the EHR test report.