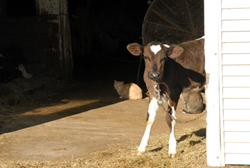 Montpelier, VT (PRWEB) April 30, 2014
Upcoming festivities celebrate a variety of Vermont's spring and early summer traditions. Here's a sampler of the hundreds of VermontVacation.com events you'll want to experience in the month ahead. A complete list with website information can be found at http://www.VermontVacation.com/pressroom.
Watercolors: The Artist's Story
Now Through June 30, Brandon
Gayl M. Braisted, Lyn DuMoulin, Maurie Harrington, and Andrea Varney express their story through watercolors. Listen as Lyn, Maurie, and Andrea share their story, techniques and maybe even some secrets at 'Story Hour' on May 25.
Opening Weekend at Billings Farm & Museum
May 1-4, Woodstock
Horse-drawn wagon rides, ice cream, sheep-shearing, and several hands-on farm education programs.
Inventive Vermonters: A Sampling of Farm Tools & Implements
May 2, Jericho
Vermonters have always been inventive, especially when it comes to agricultural innovations. Retired engineer Paul Wood presents a sampling of farm tools, implements, and artifacts invented or produced in Vermont and the often fascinating stories of the inventors themselves.
The comedy BORN YESTERDAY
May 2 – 11, Hyde Park
Harry Brock, a loud-mouthed and corrupt tycoon goes to Washington, D.C. to manipulate legislation of a crooked deal. He brings his girlfriend, Billie Dawn, a dim-witted and uneducated ex-chorus performer. Brock worries that Billie's lack of social graces will embarrass him and hires a magazine journalist to tutor his "dumb broad" to fit in with Washington society.
Mom's Day Out
May 3, Burlington
Luxury events and great shopping deals to celebrate Mom! Enjoy complimentary beauty treatments, style tips, shopping discounts, and prizes while loved ones shop for the perfect Mother's Day gift!
Sarah Blacker at Brandon Music
May 3, Brandon
Sarah Blacker, New England Music Awards 'Female Performer of the Year,' returns to Brandon Music. The Boston Herald's Jed Gottlieb said, "Sarah Blacker makes some of the most interesting folk music in Boston – mostly by making folk the starting point and reaching out toward rock, Americana, and prog."
Benson Bear Obstacle Challenge
May 3 & June 21, Benson
3.1 or 6.2 challenging miles of cross-country and wooded terrain with 30+ or 50+ obstacles and challenges on the famous Benson Bear Obstacle Challenge Course.
VYO 50th Anniversary Concert
May 4, Burlington
This 50th anniversary season culminating concert features the return of former VYOA music director Troy Peters to conduct an orchestra of VYO alumni, a new work for chorus and orchestra by alumnus Tim Woos, and Beethoven's monumental Ninth Symphony, including soloists, the VYO Chorus, and music community members in the Ode to Joy.
Middlebury Maple Run - The Sweetest Half
May 4, Middlebury
The Middlebury Maple Run - The Sweetest Half has earned a reputation as being well-organized and friendly event, a "Must-Do" for New England runners. Plus, the beautiful, scenic course features vistas of the Green Mountains and Adirondacks.
Herrick's Cove Wildlife Festival
May 4, Rockingham
The Herrick's Cove Festival, on the Connecticut River, hosts one of the most popular festivals in the area. The festival includes nature walks, fly tying demonstrations, and live animals. There will also be hands-on activities, a 'creepy crawly' exhibit, guided nature walks, and a puppet show for families.
Ani DiFranco
May 6, Rutland
A folkie in punk's clothing, Ani DiFranco emerged as one of the most influential and inspirational cult heroines of the 1990s. Her songs tackle issues like rape, abortion, and sexism with insight and compassion, the music's empowering attitude and anger tempered by the poignant candor of singer/songwriter confessionalism.
TradNation
May 9, Randolph
TradNation artists perform repertoire from their own families, new roots-inspired music compositions, or music learned from local traditions that are unique to the only officially French-speaking population in North America. Among these artists are award-winning musicians and dancers, ethnologists, and composers. Featured performers are New World Festival favorites, Dentdelion and Les Poules à Colin.
Middlebury Arts Walk
May 9 and June 13, Middlebury
Stores and businesses will remain open, becoming galleries displaying the work of dozens of area artists. Art will be featured in restaurants, on the town green, and in other exciting and unlikely places. Visit Middlebury on the second Friday of every month.
B.A.S.H. - Big Arty SPA Happening
May 9, Barre
A benefit for Studio Place Arts (SPA) includes great art, music, and a silent auction. Enjoy rock band, Swale, and blues and folk musician Andy Pitt. Wine will be served by the Grand View Winery (cash bar) and there will be black & white desserts created by students at the Barre Tech. Center's Bake Shop.
Vermont Vaudeville: Red Tape
May 9 – 10, Hardwick
The founders of Vermont Vaudeville, Rose Friedman, Justin Lander, Brent and Maya McCoy, are back at the historic Hardwick Town House with an action packed show, including circus stunts and comedy. This show features the Vermont Vaudeville House Band as well as new guest performers.
The Russian Soul - The Russian Voice
May 10, Putney
Explore two great masterworks of the 19th and 20th Centuries, Tchaikovsky's Piano Trio and Shostakovich's 2nd Piano Trio, in the context of Russian literature and the Russian language. Guided by mentors from both fields, Trio Cleonice will explore not only these two beloved Russian piano trios, but parallel works of fiction. http://www.yellowbarn.org
An Evening of Variety Entertainment - A GMAD Benefit
May 10, Burlington
The North End Studio is host to a night of various entertainment presented by Aviano Entertainment including Zumba with Angel, local performers, a silent auction, door prices, and light vegan fare courtesy of Shelburne Supermarket, Pingala Cafe and Snaffle Sweets.
The Wailin' Jennys
May 11, Randolph
Founding members Ruth Moody and Nicky Mehta along with New York-based Heather Masse continue to create some of the most exciting and exquisite music on the folk-roots scene, stepping up their musical game with each critically lauded recording and thrilling audiences with their live performances.
Full Moon Paddle
May 14, East Charleston
There is nothing like being out on the Clyde River during a full moon, witnessing the transition from sunset to moonrise while paddling along the slow moving waters. Bring a flashlight, warm layers, a hot thermos, and a camera if you so please.
Plein Air Open Art Day in Milton
May 17, Milton
Calling all artists to Milton, Vermont! The second annual Plein Air Art Day is open to the public. All mediums welcome: bring friends and supplies. Registration May 17 at 7 a.m. at Milton Grange, reception at 1 p.m. – 2 p.m. Art supplies will be available for purchase.
Brattleboro Concert Choir: Missa Gaia
May 17 – 18, Brattleboro
A grand celebration of creation, Missa Gaia was premiered on Mother's Day, May 10, 1981 at the Cathedral of St. John the Divine in New York City. An exhilarating fusion of sound and drama.
Woofstock 2014: Dog Festival
May 17, Vergennes
Enjoy the day with a Fun Run and Walk—dogs welcome, of course—great demos, vendors galore, kids' activities, a silent auction to benefit Homeward Bound, a doggie play park, a shelter dog parade, and more! http://basinharbor.com/event/woofstock-2014-dog-festival/
Sage City Symphony
May 18, Bennington
Program includes Allen Shawn's Concerto for Cello, with Maxine Neuman as soloist, and Edward Elgar's Enigma Variations, Op. 36. Conducted by Michael Finckel.
Lincoln and Vermont
May 18, Swanton
Beginning with Lincoln's preliminary Emancipation Proclamation, and continuing through to the consecration of the National Soldiers Cemetery at Gettysburg, historian Howard Coffin traces how Lincoln's leadership of the Federal war effort and his political canniness shaped the relationship between the president and Vermont, a state Lincoln admired though never visited.
Beatrix Potter Revisited
May 21, Middlebury
Using books, props, and bibliography, Helene Lang presents the life of Beatrix Potter, highlighting her artistic talent, her writing ability where every single word is appropriate and perfectly arranged, and finally, her years as a countrywoman raising Herdwick sheep.
Green Mountain Comedy Festival
May 21 – 25, Burlington, Montpelier and Barre
The Sixth Annual Green Mountain Comedy Festival features national headliners Tig Notaro, Myq Kaplan, DeAnne Smith, Upright Citizens Brigade, and Specter Improv, plus over 100 Vermont comics, improv, and sketch performers, and Burlington punk rockers Rough Francis will open for Tig's two shows.
The Vermont Country Store Tent Sale
May 22 – 26, Weston
Pop in to the big tents at the Weston and Rockingham stores for a wide variety of sale and one-of-a-kind items. Dine at Mildred's Dairy Bar or The Bryant House Restaurant.
First Annual Fiddlehead Festival
May 23 – 25, West Dover
Marketplace featuring Vermont products, food, and entertainment. Bragging rights and cash prizes for Fiddlehead competitions: Best pickled fiddleheads, a barbeque competition, and fiddling competition. Area artisans will be showing their works and there's a block party!
Mayfest Juried Arts & Craft Festival
May 24, Bennington
Main Street closes down for Bennington's largest event of the year; come celebrate the 29th annual festival of handmade arts and crafts.
Statewide Open Studio weekend
May 24-25, Statewide
Open Studio weekend is a self-guided statewide celebration of the visual arts, offering a unique opportunity to meet a wide variety of artists and craftspeople in their studios, some of which are only open to the public during this event. The tour features the work of glassblowers, jewelers, printmakers, potters, furniture makers, weavers, ironworkers, painters, sculptors, quilt makers, and wood carvers.
Cheese & Dairy Celebration at Billings Farm & Museum
May 24 – 25, Woodstock
Celebrate Vermont's distinctive dairy heritage during a weekend of sampling delicious New England cheeses and dairy products and meeting local cheese makers, dairy education programs, making cheese, ice cream, and butter.
Sugar Social
May 24 – 25, Waterbury Center
Come celebrate an old fashion sugar on snow with donut, pickle, and hard-boiled egg. There's also a maple bake sale with baked beans, candy, pies, breads & more. Waterbury Center Community Church on Rt. 100. For more info, call 802-244-8089.
The Italian Girl in Algiers, Comic Opera by Rossini
May 30, June 1, 5, 6 & 7, Middlebury
Opera Company of Middlebury presents this comic opera by Gioachino Rossini. An Italian beauty finds herself stranded in small-town America in the 1950's, but using her wits (and Rossini's brilliant score) she soon beats the boys at their own game. The cast of professional singers is directed by Douglas Anderson and conducted by Maestro Emmanuel Plasson.
Beethoven String Quartet Op. 74 - Ives String Quartet No. 2
May 30, Putney
Since its founding, the Momenta Quartet has been exploring new ways of expanding the tradition of the string quartet, presenting works by living composers of diverse musical backgrounds and cultures that are often underrepresented or unknown in this country. Enjoy works by Beethoven and Ives, two composers who revolutionized the musical traditions of their own times.
Piano Cabaret
May 30, Shelburne
Shelburne United Methodist Church presents a Piano Cabaret featuring Dr. Joe Utterback, jazz pianist, Friday evening, May 30 at 7 p.m. Call 802-985-3981; seating on first come basis. Doors open at 6:30 p.m. Refreshments will be available.
2014 Burlington Discover Jazz Festival
May 30 - June 8, Burlington
For 31 years the Discover Jazz Festival has been celebrating amazing live music in Burlington, Vermont. Music resonates from every corner of Downtown Burlington — from the Flynn Center, to Church Street Marketplace, to Waterfront and City Hall Parks, to clubs and restaurants. http://www.flynntix.org
Coyote Scramble Ultras
May 31, East Burke
The Coyote Scramble is not a race, but more of a rambling party at Kingdom Trails. There are routes of 40'ish/30'ish/20'ish miles; you'll earn bonus minutes/miles for wandering, yet within the 12 allotted hours for said scrambling. Sidebar activities of pre-/post-scramble feeds, maybe even some bowling, help fill the weekend.
World Masquerade Ball: A Dates for Coffee Benefit
May 31, Brattleboro
The World Masquerade Ball is a benefit for the film Dates for Coffee and promises to be a magical evening of enchanting live entertainment, delicious refreshments, dancing, and lively conversation. Enjoy cocktail hour, live entertainment, and an auction of masks created by local artists.