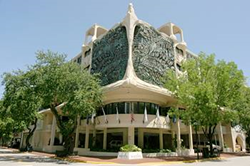 The Mayfair Hotel's Art Basel kick-off happens every year on the Monday of Art Basel Week, and this season we are thrilled to showcase artist Henry Perez and The Sabrina Cohen Foundation for Individuals Living with Paralysis.
Miami, FL (PRWEB) November 21, 2014
Art Basel Week kicks off in style for a great cause on Monday, December 1st at the glamorous rooftop of The Mayfair Hotel & Spa Miami with a soiree benefitting the Sabrina Cohen Foundation for Individuals Living with Paralysis – Putting Lives Back Into Motion (SCF). The celebration features portraits taken by Miami artist Henry Perez of "Miami's Leading Ladies of Glamour" at some of the area's most iconic cultural locations - Wynwood, Coconut Grove, the Miami Design District, South Beach's Art Deco District, Coral Gables and Little Havana. The exhibition is called "La Force de Femmes au Naturel" (The Power of Natural Women) and features fifty of Florida's fabulous females without any retouching or photo-shop (au naturel!), honoring the spirit and power of women leaders who make a difference in the community, like Sabrina Cohen.
The Opening Reception is free and open to the public and promises to draw many of the women celebrated in the exhibition. Proceeds from the raffling of specially framed artwork from the show and a silent auction will benefit SCF - the non-profit organization that advocates for research and quality-of-life health initiatives, dedicated to building a global network of top scientists and clinicians in the field of Regenerative Medicine, while funding cutting-edge research and innovative therapies to reverse paralysis and treat other impairments of the Central Nervous System.
The exhibition features 128 artworks (25 portrait prints plus a projection installation of all of the images), and will remain on view at the Mayfair Hotel throughout Art Basel Week. "The Mayfair Hotel is proud of our ongoing initiatives to support Miami's arts and culture," said the hotel's General Manager Axel Gasser. "The Mayfair Hotel's Art Basel kick-off happens every year on the Monday of Art Basel Week, and this season we are thrilled to showcase artist Henry Perez and The Sabrina Cohen Foundation for Individuals Living with Paralysis."
"These are the most inspiring and beautiful women I am blessed to know," said the artist Henry Perez. The women span in age from their early 20's to nearly 80, representing a wide variety of races and ethnicities. The series is a culmination of over a year's worth of photo-shoots.
All portraits were shot in black-and-white, and have not been retouched or photo-shopped in any way to preserve the natural beauty of the subjects. "These women all influenced their surroundings and to the style and energy of their individual photo-shoots," said Perez. "I wanted them to all feel totally comfortable and at ease, while I captured their natural spirit and force of energy as women who contribute to Miami's community."
"We are honored that the Mayfair Hotel has selected the Sabrina Cohen Foundation for its Art Basel Week kickoff event this year," said Sabrina Cohen, founder of the organization. "Partnering with one of Miami's most iconic hotel landmarks, and with one of Miami's most beloved photographers Henry Perez, is a winning combination for Art Basel Week in Miami." Born and raised in Miami Beach, Sabrina endured a severe C3-5 spinal cord injury in 1992 at the age of 14 from a car accident. She has been confined to a wheelchair ever since.
In 2006, she established the Sabrina Cohen Foundation to educate the public about the cause and raise funds for research. She has lectured at educational and scientific conferences, including at Harvard University, Stanford University, Baylor College of Medicine at the University of Texas, University of Michigan and at the United Nations. Sabrina's media coverage as the Foundation's spokesperson includes interviews with CNN, NBC, FOX, CBS, ABC, Good Morning America, NPR, WebMD Magazine (nominated a 2009 American Health Hero), and the Wall Street Journal. She was named a national "Woman Doing Good" by Self Magazine, for which she appeared on "The Today Show." Currently she has teamed up with the City of Miami Beach to create the first fully accessible beach in the State of Florida. Sabrina also encourages fitness and rehabilitative initiatives to help those living with paralysis through "Sabrina's Circle" scholarship program, inspiring others with her personal progress in the gym on her blog: "NeuroFitGirl: My Workout Program."
# # #
About The Mayfair Hotel & Spa Miami
Heralding its 30th anniversary with the completion of more than $10 million in extensive renovations, Located in the heart of Miami's historic "first neighborhood," the Village of Coconut Grove. The only Gaudi-inspired boutique hotel in the U.S., it's an artistic masterpiece that blends Art Nouveau, Asian and Old World European inspirations. Interior atriums teem with elaborate Asian gardens and fountains. Subtropical fantasias cocoon guests inside a private Zen oasis - overflowing with palm trees, orchids, tropical ferns and bamboo, birds, butterflies and Tiffany stained glass ceilings. Hand-carved by local artists, the Mahogany woodwork and doorways, copper and stone sculptural creations are all one-of-a-kind (the molds were broken after the unveilings). Most of the 179 luxury suites feature private terraces and Japanese Soaking Tubs (built for two), imported Brazilian doors, marble bathrooms with Roman Spa Baths, sea-grass furnishings and opulent details.
The hotel's indulgent culinary experiences are helmed by Executive Chef Dario Correa. The Italian Trattoria Spartico showcases a stone-faced wood-burning Ambrogi oven imported directly from Milan. Above the Mayfair surrounds the decadent rooftop pool and cabanas. The hotel boasts one of a handful of Jurlique Australian Spas in America, a 4,500 square-foot holistic day-spa with sunlit treatment suites, a Couples' Suite for dual treatments, and certified-organic products that are biodegradable and exclusively grown on Jurlique's private farms in South Australia's pristine Adelaide Hills. The property is pet-friendly, has a 24-hour Fitness Center, 15,000 square-feet of events and meetings space, and offers a complete Business Center with complimentary WiFi in all rooms and common areas. Part of the Schlesinger family's legendary portfolio, including the Brazilian Court Hotel in Palm Beach. For reservations and more information, please visit mayfairhotelandspa.com or call 305 441 0000.