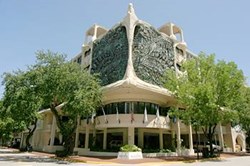 The Mayfair Hotel & Spa is proud to kick off Art Basel Week with MIAMI SAYS ART-2, launching the Mayfair Hotel's 30th anniversary yearlong celebrations and recognizing Miami's cultural history and the future of our art destination in true Mayfair style.
Miami, Florida (PRWEB) November 25, 2013
Last year's Art Basel Week kicked off with a much talked-about tribute to Miami's arts pioneers - alongside the city's new cultural visionaries - with the retrospective of visionary artist Martin Kreloff's 1976 "Miami Says Art" (which 36 years ago brought together the city's then up-and-coming arts luminaries to look into his camera and exclaim "ART").
Presented by The Mayfair Hotel & Spa Miami, MIAMI SAYS ART 2 ushers in Art Basel Week 2013 and is on view Dec. 2-5, 10:00am-6:00pm (free and open to the public) at the hotel's exquisite Palm Terrace, 3000 Florida Avenue, in the heart of historic Coconut Grove. The Mayfair Hotel celebrates its 30th anniversary year throughout 2014 and is the only Gaudi-inspired boutique hotel in the U.S., boasting unparalleled artistic craftsmanship that makes guests feel like they are immersed within
a living work of art.
During last year's Art Basel Week, Kreloff reunited cast members from his original 1976 show alongside Miami's current crop of cultural champions, all coming together to help create a new time-capsule honoring Miami's arts evolution, and providing a window into the city's bright future as an art destination.
The photos and resulting artwork have been kept under lock-and-key for a whole year, and the much-anticipated installation will be revealed for the first time at a preview reception for the media on Monday, December 2 at the Mayfair Hotel in Coconut Grove.
MIAMI SAYS ART 2 features a wall series of portraits by Kreloff, with some of the original 1976 cast alongside Miami's new museum directors, gallerists, performing arts leaders and directors of cultural institutions (all once again looking at the camera and proclaiming "ART!"). Kreloff has also collaborated with Miami artist Gustavo Oviedo on a black-box installation featuring video, projections and sound art, "Art Euphoria" melding photos, original artwork, video and sound recordings for an experiential walk-through time capsule.
The original 1976 "Miami Says Art" cast included:
American figurative artist Alex Katz; Arnold L. Lehman (now the director of the Brooklyn Museum, who presented the 1976 exhibition while then serving as director of Miami's Metropolitan Museum and Art Center); philanthropists and collectors Ruth and Richard Shack, and Martin Z. Marguiles; and socialite/designer Gloria Vanderbilt.
Last year's tribute reprised the original 1976 art happening, gathering more than 100 arts leaders alongside original cast members for the photo-shoot for this year's time-capsule including:
Director of the Brooklyn Museum Arnold Lehman; New World Symphony CEO Howard Herring; president/CEO of the Arsht Center John Richard; Dr. Carol Damian, director of the Patricia and Phillip Frost Museum at FIU; Wolfsonian director Cathy Leff; Dr. Jeffrey Hodgson, New World School of the Arts Provost; and Ruth Shack.
Martin Kreloff and Miami artist Gustavo Oviedo are asking last year's participants to send in video-recordings via their mobile phones, saying the word "ART," to incorporate into the black box installation as sound art.
The artist Martin Kreloff says: "After many years of living and working on the West Coast, Miami welcomed me back with open arms, as if it was urging me to return home ... and what a homecoming it has become!"
"From the sleepy burg I first encountered when I moved to Miami in 1967, the city has exploded into a vibrant and vital cultural destination that pulsates with the glow of a world class art scene."
"I've also collaborated with Miami artist Gustavo Oviedo on a black box multimedia |installation. What will this year's MIAMI SAYS ART be like? All I can say is … Miami - you really know how to say ART!" (A sneak peak at the installation's video, seen here).
Said the General Manager of The Mayfair Hotel & Spa Miami, Axel Gasser: "The Mayfair Hotel & Spa is proud to kick off Art Basel Week with MIAMI SAYS ART-2, also launching the Mayfair Hotel's 30th anniversary yearlong celebrations and recognizing Miami's cultural history and the future of our art destination in true Mayfair style."
About the Artist Martin Kreloff:
Martin Kreloff's work is held by the New York Museum of Modern Art and dozens of other prestigious galleries, museums and corporate collections across America. His art sparkles with contemporary themes, often built around classic art references, bits of whimsy, and stars of yesteryear. Born in Brooklyn, Kreloff started painting when he was only 12 and began studying formally at the Brooklyn Museum, continuing on at the famed Parsons School of Design. He garnered a BFA and an MFA at the University of Miami. Many of his paintings found their way into the personal collections of some of the nation's most accomplished celebrities including Cary Grant, Joan Crawford, Ann Miller, Esther Williams and Gloria Vanderbilt. With more than 25 solo shows to his credit, Kreloff has been commissioned to create artwork for Warner Brothers; Universal Pictures; Royal Caribbean Cruise Lines; Nielsen/National Research Group; Harley Davidson; Bloomingdale's; The American Civil Liberties Union; The Miami Herald; and The San Francisco Chronicle. http://www.martinkreloff.com
About the Artist Gustavo Oviedo:
Gustavo Oviedo is an artist based in Miami. He was born in Paris, and raised between Colombia, Venezuela, Mexico and finally Miami. He has a Master's Degree in Motion Graphics and Visual Effects. He works in various mediums including video, photography, silkscreen, collage, sculpture and mural. Oviedo's work has been exhibited at ArtCenter/South Florida, the Art & Culture Center of Hollywood, Bakehouse Arts Complex, Locust Projects, and Primary Projects, among others. Two of Oviedo's short films have been part of the MOCA's Optic Nerve Short Film Festival. http://www.131projects.com
About The Mayfair Hotel & Spa:
Heralding its 30th anniversary with the completion of more than $10 million in extensive renovations, The Mayfair Hotel & Spa is located in the heart of Miami's historic "first neighborhood," The Village of Coconut Grove.
The boutique architectural gem is the only Gaudi-inspired hotel in the United States, an artistic masterpiece that blends Art Nouveau, Asian and Old World European inspirations. The dramatic interior atriums teem with elaborate Asian gardens and fountains. Subtropical fantasias cocoon guests inside a private Zen oasis - overflowing with palm trees, orchids, tropical ferns and bamboo, birds and butterflies, monolithic columns and Tiffany stained glass ceilings. Hand-carved by local artists, the Mahogany woodwork and doorways, copper and stone sculptural creations are all one-of a-kind (the molds were broken after the unveilings). The Mayfair features 179 luxury suites, most with private terraces and Japanese Soaking Tubs (built for two), imported Brazilian doors, marble bathrooms with Roman Spa Baths, stone floors, sea-grass furnishings, hand-carved Mahogany headboards, and opulent details.
The indulgent culinary experiences at The Mayfair are helmed by Executive Chef Dario Correa. The Italian Trattoria Spartico showcases a stone-faced wood-burning Ambrogi oven imported directly from Milan. Above the Mayfair surrounds the decadent rooftop pool and cabanas. The hotel boasts one of a handful of Jurlique Australian Spas in America, a 4,500 square-foot holistic day-spa with sunlit treatment suites, a Couples' Suite for dual treatments, and certified-organic products that are biodegradable and exclusively grown on Jurlique's private farms in South Australia's pristine Adelaide Hills.
The Mayfair Hotel & Spa is part of the Schlesinger family's legendary portfolio of hospitality excellence, including the Brazilian Court Hotel in Palm Beach. For reservations and more information, please visit mayfairhotelandspa.com or please call 305 441 0000.