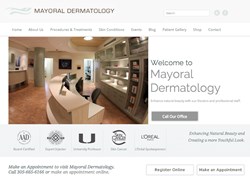 Certificate of Achievement for Excellence in Patient Satisfaction
Miami, FL (PRWEB) September 09, 2013
South Florida's most esteemed cosmetic and medical dermatological center Mayoral Dermatology has been distinguished as a recipient of the BSM Consulting "Certificate of Achievement for Excellence in Patient Satisfaction" award for 2013. As the healthcare industry's most prestigious consulting and practice management company, BSM Consulting is an established provider of business management solutions for large-scale pharmaceuticals, hospitals, manufacturers of medical devices and medical trade associations operating all over the world.
Awarding this Certificate of Achievement to Mayoral Dermatology is the Vice President of Operations for BSM Consulting Ms. Lisa Peltier, who endorsed the award as well as the following statement printed on the certificate:
"This award acknowledges practices that demonstrate a commitment to using patient satisfaction data to impress quality of care. In a comprehensive Patient Satisfaction Survey conducted independently by BSM Consulting, results verify that this practice excels in the area of patient satisfaction performance compared to its peers."
Mayoral Dermatology provides cutting-edge dermatological procedures at its Coral Gables, Florida office for a diverse number of skin conditions ranging from wrinkle erasure to treatment for precancerous and cancerous skin conditions. For the past 30 years, Dr. Mayoral and her team of outstanding specialists have been eliminating unsightly or unhealthy skin disorders for South Florida residents within a state-of-the-art facility known for its comfortable and relaxing ambiance. Integrating the most modern dermatological technologies with the assistance of a caring staff who are always ready to help anyone with cosmetic or health issues related to the skin, Mayoral Dermatology not only enjoys a substantial and loyal following but also the respect of professional dermatologists worldwide.
In receiving this award, BSM Consulting recognizes the stellar reputation Mayoral Dermatology has in Coral Gables as well as the entire South Florida region. Dr. Mayoral and her staff of professional dermatologists and estheticians proudly accept this award on behalf of its present and future patients who desire the best in skin care treatments and quality of service. Mayoral Dermatology would also like to extend its promise to the public to continue improving patient satisfaction and the ability to provide treatment methods superior to other dermatological centers.
For more information about the services provided by Mayoral Dermatology, call 305.665.6166 or send an email to info(at)mayoralderm(dot)com.