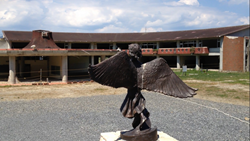 A lot of people don't know where to start and what they need is hope," he said. "I saw a lot of smiles instead of tears.
Tokyo, Japan (PRWEB) February 11, 2016
Kyō/Today/今日, a new documentary, brings the harrowing tales of six survivors of Japan's Great East Earthquake and Tsunami to an international audience, beginning with the world premiere on March 11, 2016 at the Aratani Theater of the Japanese American Cultural & Community Center (JACCC) in Los Angeles, California.
Director/Producer Austin Auger, who himself is part Japanese, was drawn to Tōhoku following the devastating events of March 11, 2011, when a magnitude 9.0 earthquake struck approximately 80 miles east of the city of Sendai in Miyagi prefecture. The quake sent a more than 30-foot Tsunami surge over the coast of Miyagi as well as the prefectures of Iwate, Fukushima, Ibaraki and Chiba. The earthquake and tsunami would claim the lives of nearly 16,000 people, destroying schools, farms, public buildings and homes.
"I thought I could come out [to Japan] and give a little insight and share the stories," Auger said on a return trip to Tokyo in January of this year to follow up with those featured in the film. "What people were going through could be applicable worldwide."
Determined to prevent the tragic events -- and needs of the survivors -- from being forgotten, Auger and his team spent one month in 2014 filming throughout the Tōhoku region, where he met six survivors of different ages, genders and backgrounds, including a teacher, a fisherman and a Japanese-Zen priest. Their stories are captured in the 40-minute film, which is categorized as a short documentary. The project left Auger with a better understanding of how grief is an experience that can connect us all, as he was overwhelmed by the displays of grace amid the perils of recovery demonstrated by the Japanese people, whose culture is one that remains mysterious to many other parts of the world.
"A lot of people don't know where to start and what they need is hope," he said. "I saw a lot of smiles instead of tears."
The premiere is part of a weeklong memorial with Love to Nippon from March 6th to March 11th, an organization founded by Masako Unoura-Tanaka, a Japanese and American citizen who herself survived the earthquake and tsunami while on a visit to Kesennuma City, Miyagi Prefecture. Auger and the team behind Kyō/Today/今日 have teamed up with Love to Nippon to continue their work to make March 11 an official day of remembrance and disaster preparedness in California. Doors open at 5 p.m. to the JACCC Noguchi Plaza, where attendees can learn about various elements of Japanese culture at interactive booths highlighting traditional crafts, foods and more. Once the documentary ends, pianist Masayuki Hirahara and flutist Noriyasu Tani will perform, followed by a Q&A session with Auger and Unoura-Tanaka. At 9:46 p.m., the exact time the earthquake occurred, there will be a prayer for Japan.
Following the film's premiere in L.A., Auger plans to enter the film into the international festival circuit to reach audiences around the globe. He wants to spread the film's message of perseverance despite unspeakable loss and remind audiences of the continuing need for support to areas around the world touched by natural disasters, such as the events in Japan.
The courage of these ordinary people has stuck with Auger, even as many continue to live in relief trailers, mourning the loss of children, spouses, parents and friends. Instead of being angry, they look for ways to help each other and rebuild their communities.
"It's given me a lot of hope," he said. "I think about them every day."
Auger said he wants to share the very simple message of those he encountered in the Tōhoku region with the world: "Don't forget about us."