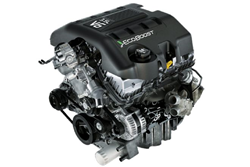 The 200 horsepower KL-DE and KL-G4 are now represented in our web inventory for consumers to compare before ordering a motor
Detroit, MI (PRWEB) August 28, 2015
The 626 mid-size vehicle series produced by Mazda and retailed in the United States will now be a car type supported for replacement motors at the UsedEngines.co company. The company is now featuring Mazda 626 engines in used condition this year. Accurate data about these new units can be obtained at http://www.usedengines.co/mazda/mazda-626-engines.
The builds in stock were manufactured during the 1993 to 2002 years. Consumers who own the mid-size or wagon version of the 626 could benefit from the replacement inventory available. The ES and LX Trim models are supported and the displacement for the editions available is 2.5-liter V6.
"The 200 horsepower KL-DE and KL-G4 are now represented in our web inventory for consumers to compare before ordering a motor," said one UsedEngines.co rep.
Since the 626 vehicle series is no longer produced in North America, OEM edition vehicle motors can be more difficult for people without automotive supplier connections to find. The Used Engines Co. has arranged to support new parts coverage plans for its 6-cylinder editions that are retailed through its website.
"The used V6 models that we are featuring in stock now carry a better term of coverage protection for the originally installed Mazda components," said the rep.
The Used Engines Co. has transformed its testing procedures to include mileage validation for each acquired block in stock. Consumers will now be advised at the point of checkout what the exact block mileage is to help people make better buying decisions when shopping the company website.
About UsedEngines.co
The UsedEngines.co company has upgraded the tools and features that consumers can access when using its inventory parts portal on the Internet this year. The company has a 21st century computer system that provides price data and shipment information. The UsedEngines.co company has a new customer service support team that helps to offer information and answer questions during business hours.