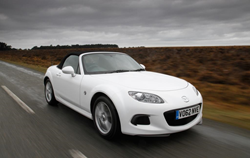 (PRWEB UK) 21 May 2014
95,997 Mazda MX-5s are registered on British roads according to government statistics released in April 2014.
MX-5 owners rate their cars among the highest of all cars on the roads, especially when it comes to 'exciting to drive.'
The UK's biggest car review site has over double the number of reviews Mazda itself publishes for the MX-5, but it is clear there is one major problem: the affordable sports car has a 'drinking problem' with poor fuel economy.
Although MX-5 owners find their car exciting to drive, they rate the fuel economy low. Many owners make the point in over 670 WeLoveAnyCar.com reviews and 3,500 owner votes that, for a car of its size, they are disappointed by the poor miles per gallon it achieves.
Now, as Mazda joins forces with Alfa Romeo to develop the brand new MX-5, early details show some startling new designs and reports of two engine choices, including Mazda's new award winning 'SkyActiv' system which combines weight loss and more efficient engines.
Since the MX-5 launch 25 years ago at the Chicago Auto Show, Mazda have introduced 55 different model variations to the UK, and, bizarrely, only the Phoenix version, first sold some years ago, no is longer registered by anyone Britain.
A WeLoveAnyCar.com spokesman commented, "There is clearly a large and active fan club for the Mazda MX-5 in the UK, and world-wide sales are testament to the success of the spirited little sports car. The new MX-5 has cutting edge design coupled with significant advances in fuel economy. Our car reviewers are telling Mazda that there will be simply no reason not to buy the new model when it is released."
The Mazda MX-5 owner profile may come as a surprise to some. More women own and drive the sports car than men. Many of the cars stay in the same family and are passed from father to son and between brother and sister or, more likely, from mother to daughter. The MX-5 has a very strong reliability record and owners rate it very high on 'recommend to a friend.'
MX-5 reviews are online and free to view along with almost every other make and model on British Roads from WeLoveAnyCar.com