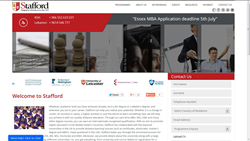 The University of Leicester Distance MBA degree in Finance offered through Stafford in the Middle East is a course of first rate academic standard.
Lebanon (PRWEB) August 10, 2014
Professional education in finance has always been the recipe for a rewarding career. Stafford is currently offering the esteemed University of Leicester distance MBA Finance program. The course is tailored for students keen on carving out a career in finance, preparing them to climb the corporate ladder.
Pursuing the program, students are able to gain skills to apply strategic thinking in the context of Financial management, Budget preparation, Cost management, Mergers and Acquisitions, and Investment appraisal. They are able to plan for effective funding of projects and assess risks, becoming a key asset for any organization they are working in.
The curriculum of the course includes management of financial institutions, working capital management, investment, and savings decisions, etc. The pursuant inculcate an enterprising spirit, which enables them to stand out as a business professional. Developing analytical capabilities, they are able to assess a situation in their capacity as a manager and contribute to planning. The program equips students with a range of relevant theories, techniques, and concepts.
Pursuing the course provides students with a new perspective to financial management. Concepts and practices they learn can be executed in functional areas of management. Students receive support through the university portal, Blackboard, and can complete the program in five years, though the usual duration is 24 months.
Case studies are a key part of the program, enabling students to learn how to implement the concepts learned. Eligibility requirements for the degree include a UG degree equivalent to a UK honors degree or an acceptable professional qualification with 3-5 years relevant working experience. Students would also need to pass an IELTS Test of 6.5 with 7.0 in writing, or a TOEFL Test of 250 (Computer)/575, or The University of Leicester English Language Test to prove their proficiency in English.
About Stafford:
Stafford offers professional distance learning courses from reputable universities in the UK. For pursuing accredited online MBA programs, one would get a string of choices with them. Professionals can obtain quality distance learning through them to accelerate their career. The institute offers vocational training courses as well.
Contact Us:
Stafford Global
Lebanon: +9614 546 777
Beirut – Dbayeh
Sarkis Group Building. 12th floor
Tel: +961 4546777
Email: LBinfo(at)staffordglobal(dot)org
KSA: +966 552 633 037
email: info(at)staffordglobal(dot)org
Website: http://www.staffordglobal.org/