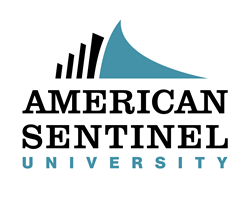 "American Sentinel's MBA Healthcare is an outstanding example of a project-based program designed to prepare students and employers for the future."
Aurora, Colo. (PRWEB) May 27, 2015
American Sentinel University, an accredited, career-focused online university, announces one of the industry's first Master of Business Administration (MBA) Healthcare project-based programs designed to be responsive to the needs of working healthcare professionals who want to develop the practical business skills and management expertise needed to advance their careers and lead the healthcare revolution.
American Sentinel's MBA Healthcare is a Distance Education Accrediting Commission (DEAC)-approved pilot project-based program and is aligned with President Obama's higher education agenda for colleges to embrace innovative ways to prepare students for the 21st-century economy.
"American Sentinel's MBA Healthcare is an outstanding example of a project-based program designed to prepare students and employers for the future," says Leah Matthews, executive director at the DEAC. "American Sentinel exemplifies excellence in teaching and learning through quality faculty, seasoned academic coaches and flexible, innovative learning outcomes which are aligned to provide the forward-thinking and effective management skills business executives need to lead healthcare into the 21st century."
Management Skills for Rapid Career Advancement
The self-directed program offers students the flexibility to complete four projects at a rate that fits their learning needs and experience. Students may also apply the knowledge they already possess to complete the program faster (in some cases in less than a year) to save on tuition. The project-based delivery format is cutting edge and builds on the strength of the MBA Healthcare program that American Sentinel has offered for many years.
"A focused professional that works faster than average can complete their MBA in less than 12 months," says Rick Oliver, Ph.D., founder and CEO of American Sentinel University. "The project-based program offers serious professionals the shortest and most economical path (under $15,000) to earn a meaningful, accredited degree that can help them address a business need in their company, bring a comprehensive healthcare solution to market or enhance their career to move into a senior management position."
The project-based program is ideal for a mid-career healthcare professional or entrepreneur that aspires to gain the business skills needed to assume management roles and become a health service manager, administrator or executive.
Students use current, real-world problems as a subject to complete four market-value projects that demonstrate their mastery of the knowledge, skills, values, attitudes and tools needed to lead in today's healthcare industry. Projects include organization analysis, marketing plan, organizational performance improvement plan and strategic implementation plan.
Graduates of the MBA Healthcare program will master the following skills:

Lead and collaborate with other professionals and communities in planning, providing and improving healthcare services and systems.
Effectively manage the performance of healthcare professionals in diverse organizational environments.
Integrate multiple functional and professional perspectives to create innovative solutions to complex problems in healthcare organizations.
Use theoretical knowledge and contemporary research for evidence-based decision-making in healthcare organizations.
Lead others in the acceptance of accountability, responsibility and stewardship for a healthcare organization's action and judgments.
Address the legal, regulatory and ethical challenges of the healthcare industry.
Tools to Thrive as Leaders in Healthcare
American Sentinel's MBA Healthcare project-based program offers students an extensive network of faculty coaches, subject matter experts, Student Success Advisors, and healthcare peers to help them master the skills in real-world healthcare scenarios and complete their degree. Upon completion, each student will have an electronic market-quality portfolio to present to current and future employers and showcase their mastery of their knowledge.
"The value that our MBA Healthcare project-based program brings to a student and their employer is quite significant," says Dr. Oliver. "Our faculty coaches and subject matter experts have been carefully chosen for their abundance of practical healthcare and business knowledge to provide students with a rich array of expertise relevant to developing their integrated healthcare and business focused competencies."
Dr. Oliver says a coach's key role is to guide, assist, drive and motivate the student to look at the broader picture and work with students on a personal level so that they gain a tailored management education that helps them master key competencies needed to successfully drive corporate initiatives.
He says that the electronic portfolio that students have once they complete their MBA is their most valuable asset for advancement. "The student's projects will be stored electronically in a portfolio to document their capabilities for their employers and serves as a tool for employers to demonstrate their employee's competencies within the organization."
For more information about the Project-based MBA Healthcare at American Sentinel, please visit http://www.americansentinel.edu/management/mba-healthcare/mba-hc-projectbased call 1.866.922.5690 or email the American Sentinel admissions team at admissions(at)americansentinel(dot)edu
About American Sentinel University
American Sentinel University delivers accredited online degree programs in nursing, informatics, MBA HealthCare, DNP Executive Leadership and DNP Educational Leadership. Its affordable, flexible bachelor's and master's nursing degree programs are accredited by the Commission for the Collegiate Nursing Education (CCNE), of One Dupont Circle, NW Suite 530, Washington, D.C., 20036. The DNP program is accredited by the Accreditation Commission for Education in Nursing (ACEN) of 3343 Peachtree Road NE, Suite 850, Atlanta, Ga., 30326. The university is accredited by the. American Sentinel University is accredited by the Distance Education Accrediting Commission, DEAC (Formerly Distance Education and Training Council-DETC), 1601 18th Street N.W., Suite 2, Washington D.C. 20009, (202) 234-5100, http://www.deac.org. For required student consumer information, please visit: http://www.americansentinel.edu/doe