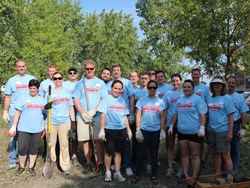 Chicago, Ill. (PRWEB) September 14, 2013
On Wednesday, September 11, 2013, nearly 250 MB Financial Bank employees volunteered at 16 local non-profit organizations in communities throughout Chicagoland. The effort, called MB on the Block, included helping out in local food pantries, community centers, shelters, and centers for people with disabilities.
"MB has always taken a leading role in supporting our neighbors. A personal commitment to serving others is part of our culture and corporate DNA," says Mitch Feiger, president, MB Financial Bank. "This was the third annual MB on the Block event and every year more employees take part. Perhaps, that's because it allows us to lend a hand and show our gratitude to the people in the communities we serve."
MB employees volunteered at the following organizations: Anixter Center, Aspire, Cara Program, Casa Central, Irving Park Food Pantry, Lakeview Food Pantry, Lawndale Christian, Loaves and Fishes, Maryville Academy, Neighborhood Boys and Girls Club, North River Commission, South Chicago Parents and Friends, Total Learning Community, Habitat for Humanity and Youth Build of Lake County.
MB on the Block is not the only community event that benefits from the volunteer efforts of MB employees. Throughout the year, MB staff take active roles in non-profit service organizations serving various communities that they work and live in. Over a third of the 1,700 employees of MB participate in activities to help low-income communities throughout Chicagoland. This includes 80 MB staff members who sit on the boards, hold offices and serve as committee members at numerous local non-profit organizations.
MB Financial Bank's holding company, MB Financial, Inc., is traded on the NASDAQ as "MBFI". MB Financial has approximately $10 billion in assets. MB Financial Bank (http://www.mbfinancial.com) is a locally-operated financial institution that has been delivering competitive personalized service for over 100 years to businesses and individuals who live and work in the Chicago metropolitan area.