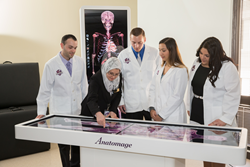 I am already integrating the Tables into our classroom and lab setting to provide students with a more dynamic and engaging learning atmosphere. -Assistant Professor Rima Khankan, PhD
FULLERTON, CA (PRWEB) April 05, 2016
Marshall B. Ketchum University's students will be learning 3-D anatomy from the most technologically advanced anatomy visualization system for anatomy education. The technology, known as Anatomage Tables, is being adopted by many of the world's leading medical schools and institutions, including Ketchum University.
Anatomage Tables teach virtual dissection and anatomy on large touch screens — much like a giant tablet — with life-size 3-D and 4-D (such as to show respiration) scans of actual adult male and female cadavers. The tables can be tilted vertically or horizontally for ease of use, and come with a digital library of scans representing more than 100 real-life pathological cases that show different conditions or anatomical variations in different individuals, including bone fractures, aneurysms, heart conditions and rare conditions.
"The Anatomage Table is the only system that can allow multiple visualizations of human anatomy in real life size. It makes for an excellent advanced education tool for a comprehensive understanding of structural relationships," said Assistant Professor Rima Khankan, PhD. "I am already integrating the Tables into our classroom and lab setting to provide students with a more dynamic and engaging learning atmosphere."
Students can view and dissect organs and tissue from different angles, then restore the scans to their original state and try again. Students will also be able to upload patients' imaging scans and use the tables' built-in software to create 3-D renderings. MBKU plans to incorporate the technology into the anatomy curriculum of all its health care professional programs.
"Delivering on our core value of innovation is important to me, the rest of the MBKU leadership team and our faculty," said Dean of MBKU's College of Health Sciences Judy Ortiz, PA-C, PhD. "Although it was a significant investment, it was an easy choice for us, because it helps ensure that MBKU students are prepared for the health care environment not just of today, but of tomorrow, too."
"A big part of reimagining the future of health care education is a commitment to technology," said University President Kevin Alexander, OD, PhD. "A large part of that commitment is the financial investment. Thankfully, the board of trustees, leadership team and University Advancement staff are working hard year-round to leverage outside partnerships so that the university can continue advancing forward."
About Marshall B. Ketchum University
Located in Fullerton, CA, Marshall B. Ketchum University is an independent, private, non-profit, accredited educational institution. MBKU is now home to the Southern California College of Optometry, the School of Physician Assistant Studies and planned College of Pharmacy. Named after the founder of the optometric institution in 1904, the change to a university structure addresses the growing demand for highly skilled health care professionals. The university confers a four-year, professional degree, Doctor of Optometry (OD) and a Master of Science in Vision Science (MS) degree. MBKU's School of Physician Assistant Studies under the College of Health Sciences awards a Master of Medical Sciences (MMS) degree. MBKU is establishing a College of Pharmacy and plans to welcome its first class in the fall of 2016. MBKU owns and operates two premier eye and vision care centers – University Eye Center at Fullerton and University Eye Center at Los Angeles. In the spring of 2016, MBKU will open its newest facility, Ketchum Health in Anaheim, CA. The health care center will be the new home of the University Eye Center, currently housed at MBKU's main campus in Fullerton, CA. Ketchum Health will deliver expanded, state-of-the-art diagnosis and treatment facilities to Anaheim, CA and the surrounding communities including specialty eye care, primary health care for families, as well as pharmacy services. Ketchum Health promises to expand on the exceptional clinical experience offered at MBKU and to provide patients a strategically integrated, comprehensive team approach to care.
###