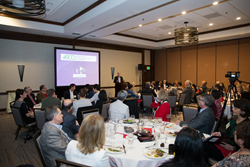 Graduates of the schools and colleges of optometry must be prepared to work with members of other health care professions to improve population health, provide better care experiences to patients and reduce health care costs.
Fullerton, CA (PRWEB) February 09, 2016
Last week at MBKU, the Association of Schools and Colleges of Optometry held a summit to recognize the importance of educating doctor of optometry students in interprofessional environments and preparing them to be part of collaborative health care teams. The summit—made possible through the generous support from Allergan, Alcon, Hoya Vision Care and Johnson & Johnson Vision Care—brought together representatives from member schools and colleges, non-optometry health professions institutions and affiliated organizations to identify and share current best practices and ideas on future development of interprofessional education and practice.
"Graduates of the schools and colleges of optometry must be prepared to work with members of other health care professions to improve population health, provide better care experiences to patients and reduce health care costs," said Pacific University College of Optometry Dean and ASCO Interprofessional Education and Collaborative Practice Committee Chair Jennifer Coyle, OD, MS. "It was only natural that we would hold this summit at Marshall B. Ketchum University and ask the founding president of MBKU to be our keynote speaker. Dr. Alexander is a true innovator and it was an honor to have him share his experiences with the attendees."
"I started thinking about interprofessional education when I was asked to be a center director at an Omni Eye Center. There, we saw patients with all types of medical problems," said Ketchum University President Kevin Alexander, OD, PhD. "I vividly remember a patient I saw with a pituitary tumor. I was responsible for coordinating that patient's care with other doctors. While I knew what to do for the patient, I had to learn what was expected of me by the other doctors and ultimately we all had to work together to ensure the best outcome for our patient. It was through that experience that I began thinking about IPE, collaborative care and the enormous impact we could make as health care providers if we started working outside of our traditional silos."
When Dr. Alexander was hired as president of the Southern California College of Optometry, the board of trustees challenged him to take the college to a new level. In 2009, at the direction of President Alexander, an institutional futuring exercise was undertaken at SCCO. The resulting discussions made it very apparent that there was a need to move forward with deliberate plans to transition SCCO from a single-discipline, independent college into a leader among three different, interprofessionally-connected programs chosen specifically to embrace the growing needs for collaborative care education.
"Our futuring exercise highlighted that the future of health care will involve a team approach to care and include non-physicians, like optometrists. We recognized at the end of the process that our century-old institution was in the health care education business, not just the optometric education business. Under a new university structure, endorsed by the board of trustees in 2013, optometry students were joined by PA students in 2014 and the first class of pharmacy students is expected to begin its doctoral program this fall," concluded Dr. Alexander.
Dr. Alexander's keynote address was followed by an all-day conference held at the MBKU campus. The morning began with an IPE panel discussion, which included two panelists from Ketchum University, Assistant Professor Jan Cooper, OD and Jennifer Cordell, an optometry student at MBKU. The group then divided into small breakout sessions to share best practices before ending the summit with an open discussion focused on "taking it back home," leaving attendees with a call to action to implement best practices at their respective colleges and universities.
With nearly 100 attendees, including representatives from 23 of the 25 ASCO schools, the summit's objectives included creating opportunities for networking and collaboration, identifying outcome measures and tools to assess the impact of IPE on student learning and developing strategies to assess the impact of IPE on patient outcomes.
"I applaud ASCO for organizing this important summit," said MBKU's Senior Associate Dean for Professional Affairs John Nishimoto, OD, MBA. "The team at Ketchum University had an opportunity to share best practices along with some lessons learned so our peer schools across the country can adapt their educational offerings to ensure all of our graduates are ready for the advances in health care. This summit could not have occurred at a better time as we all look for ways to innovate and collaborate."
About Marshall B. Ketchum University
Located in Fullerton, CA, Marshall B. Ketchum University is an independent, private, non-profit, accredited educational institution. MBKU is now home to the Southern California College of Optometry, the School of Physician Assistant Studies and planned College of Pharmacy. Named after the founder of the optometric institution in 1904, the change to a university structure addresses the growing demand for highly skilled health care professionals. The university confers a four-year, professional degree, Doctor of Optometry (OD) and a Master of Science in Vision Science (MS) degree. MBKU's School of Physician Assistant Studies under the College of Health Sciences awards a Master of Medical Sciences (MMS) degree. MBKU has recently announced plans to establish a College of Pharmacy and plans to welcome its first class in the fall of 2016. MBKU owns and operates two premier eye and vision care centers – University Eye Center at Fullerton and University Eye Center at Los Angeles. Marshall B. Ketchum University closed on a deal in January, 2015 to purchase a building in Anaheim, CA. The building will be the new home of Ketchum Health, currently the University Eye Center housed at MBKU's main campus in Fullerton. In addition, the new space will allow for expansion of additional primary health care services, as well as a pharmacy.