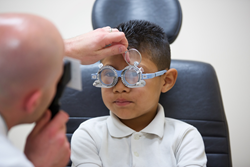 Their visit to UECF offers a comprehensive examination with advanced technology and the opportunity for additional testing if special cases arise. Silvia Han, O.D.
FULLERTON, CA (PRWEB) June 11, 2015
Children with untreated visual impairments face significant difficulty keeping up with their peers in traditional classroom settings. These early academic struggles can culminate into devastating and permanent detriments on a child's future success, impacting their lives well into adulthood. Recent studies have found that students receiving special education programming via Individualized Education Programs have significantly higher-than-average rates of vision disorders.
"Many economically disadvantaged families have little or no access to vision care," said MBKU President Kevin Alexander, O.D., Ph.D. "MBKU is partnering with organizations and school districts to make optometric care accessible to all elementary-aged children regardless of their ability to pay for services. By bringing the students from the participating Orange County school districts to MBKU for comprehensive vision care, we are alleviating both the cost and transportation issues that challenge many economically disadvantaged families."
Funding from The Karl Kirchgessner Foundation will underwrite comprehensive vision examinations and glasses for elementary students in Orange County school districts. The Children's Vision Initiative at MBKU continues to gain momentum in its second full year of program operations. MBKU's goal is to secure funding to provide comprehensive eye exams to all un-insured and under-insured children across our partner elementary schools through a regular schedule of events on location at the University Eye Center at Fullerton (UECF).
"In routine well-child visits with a pediatrician, children undergo a basic eye screening. The screenings may not be sensitive enough to detect farsightedness in children, binocular vision disorders and are not under dilated conditions. Vision problems may be missed and therefore not corrected," said Kristine Huang, O.D., M.P.H., Associate Professor at MBKU and Chief of the Pediatric Vision Service and Studt Center for Vision Therapy at UECF.
To date, the Children's Vision Initiative at MBKU has provided approximately 1,724 comprehensive eye exams and 1,163 pairs of eyeglasses to Orange County children in need of corrective lenses. In October 2014, the program was extended to eight additional elementary schools in Orange County, including several in the Fullerton School District.
"Children are brought to UECF for a comprehensive eye exam and are provided spectacle correction as needed," noted Michele Whitecavage, Director of Special Clinic Programs. "Their visit to UECF offers a comprehensive examination with advanced technology and the opportunity for additional testing if special cases arise," continued Silvia Han, O.D., Assistant Professor at MBKU.
MBKU is proud to count this and other private foundation grants, corporate contributions and individual gifts in its first comprehensive fundraising campaign. ACHIEVING 20|20: The Campaign for MBKU will make its official public launch next year. Dedicated alumni, grateful patients and generous community supporters will help MBKU reimagine the future of health care education. For more information contact Erika Bernal, Director of Development & Alumni Relations at 714.992.7832 or ebernal(at)ketchum(dot)edu.
About Marshall B. Ketchum University
MBKU is now home to the Southern California College of Optometry and the College of Health Sciences. The University confers a four-year, professional degree, Doctor of Optometry (O.D.) and a Master of Science in Vision Science (M.S.) degree. MBKU's School of Physician Assistant Studies under the College of Health Sciences awards a Master of Medical Sciences (M.M.S.) degree. MBKU has recently announced plans to establish a College of Pharmacy and plans to welcome its first class in the fall of 2016. MBKU owns and operates two premier eye and vision care centers – University Eye Center at Fullerton and University Eye Center at Los Angeles. Marshall B. Ketchum University closed on a deal in January, 2015 to purchase a building in Anaheim, CA. The building will be the new home of Ketchum Health, currently the University Eye Center housed at MBKU's main campus in Fullerton. In addition, the new space will allow for expansion of additional primary health care services, as well as a pharmacy.
###