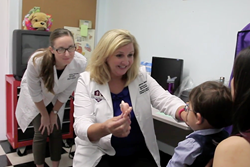 Through the Children's Low Vision Clinic and Education Program, low-income families can find the comprehensive vision care and personalized treatment plans in support of their blind and low vision child. -Dr. Heyman
Fullerton, CA (PRWEB) November 19, 2015
Overseen by Catherine Heyman, OD, an associate professor at SCCO and Low Vision Program Coordinator at Blind Children's Learning Center in Santa Ana, CA, the Children's Low Vision Clinic and Education Program is designed to improve access to health care and quality of life for low-income, special needs youth (blind and low vision children, ages 0-7) through the delivery of high-quality comprehensive critical vision services. As part of the program, MBKU provides individual treatment recommendations for all patients, four in-service trainings and one large community education forum designed to help educators, vision therapists and other health care practitioners identify when severe vision issues are affecting early childhood development.
"Blind Children's Learning Center has served as MBKU's partner in this program for more than 25 years, evaluating and intervening early in the development of each of these low vision children to significantly impact their developmental and learning outcomes," said Kathleen Buehler, President and Executive Director, Blind Children's Learning Center. "SCCO faculty and residents visit BCLC one day per week to diagnose and provide high-level comprehensive evaluations for more than 80 blind and low vision children throughout the BCLC academic year."
Children with vision problems are more likely to experience developmental delay. Roughly 60 percent of Orange County children, ages 0-5, do not receive vision screenings at all, even though early evaluation can halt ocular disease progression, prevent blindness and improve early childhood development including the development of gross motor skills.
"Through the Children's Low Vision Clinic and Education Program, low-income families can find the comprehensive vision care and personalized treatment plans in support of their blind and low vision child," said Dr. Heyman. "Experienced SCCO faculty work in tandem with our stellar optometric residency program, as well as area partners such as Blind Children's Learning Center, to deliver the highest quality pediatric care to our county's neediest children. Partnerships with the community and area school districts help deliver important information to educators and families to help them identify warning signs indicating that a child or infant may have a vision disorder requiring further attention."
Dean of SCCO, Dr. Stanley Woo concluded, "With the support of the Pacific Life Foundation, we will positively affect the lives of our youngest and neediest community members— visually impaired children struggling to learn and develop. Our partners, both professional and charitable, help us deliver on one of our core values—caring. Their support enables us to expand services to children in need beyond the immediate reach of our campus clinical facility."
MBKU is proud to count this and other private foundation grants, corporate contributions and individual gifts in its first comprehensive fundraising campaign. ACHIEVING 20|20: The Campaign for MBKU will make its official public launch next year. Dedicated alumni, grateful patients and generous community supporters will help MBKU reimagine the future of health care education. For more information contact Erika Bernal, Senior Director of Development & Alumni Relations at 714.992.7832 or ebernal(at)ketchum(dot)edu.
About Marshall B. Ketchum University
Located in Fullerton, CA, Marshall B. Ketchum University is an independent, private, non-profit, accredited educational institution. MBKU is now home to the Southern California College of Optometry, the School of Physician Assistant Studies and planned College of Pharmacy. Named after the founder of the optometric institution in 1904, the change to a university structure addresses the growing demand for highly skilled health care professionals. The university confers a four-year, professional degree, Doctor of Optometry (OD) and a Master of Science in Vision Science (MS) degree. MBKU's School of Physician Assistant Studies under the College of Health Sciences awards a Master of Medical Sciences (MMS) degree. MBKU has recently announced plans to establish a College of Pharmacy and plans to welcome its first class in the fall of 2016. MBKU owns and operates two premier eye and vision care centers – University Eye Center at Fullerton and University Eye Center at Los Angeles. Marshall B. Ketchum University closed on a deal in January, 2015 to purchase a building in Anaheim, CA. The building will be the new home of Ketchum Health, currently the University Eye Center housed at MBKU's main campus in Fullerton. In addition, the new space will allow for expansion of additional primary health care services, as well as a pharmacy.
###