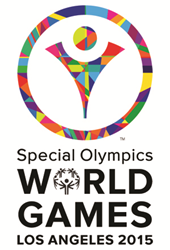 It was so inspiring to hear Tim Shriver open the games with an absolutely infectious energy that truly motivated a parade of acceptance and the very best that America has to offer. - President Alexander
FULLERTON, CA (PRWEB) August 12, 2015
As part of the World Games Healthy Athletes program, the Special Olympics-Lions Clubs International Opening Eyes program offered vision screenings administered by MBKU's doctors and students of the Southern California College of Optometry, as well as volunteers from peer institutions and the community.
Through a sponsorship from Essilor, prescription goggles and glasses, or non-prescription sunglasses were provided to every athlete. Since 2002, Essilor has been an exclusive global distributor of corrective lenses to the Special Olympics-Lions Club International Opening Eyes program, which aims to meet the visual correction needs of athletes in the Special Olympics.
After Saturday's medal ceremony, guests of the Essilor Vision Foundation joined members of the MBKU family for a special reception.
"It was so inspiring to hear Tim Shriver open the games with an absolutely infectious energy that truly motivated a parade of acceptance and the very best that America has to offer," said University President, Kevin Alexander, O.D., Ph.D. "Let us never lose this spirit to be brave and reach higher, and let's continue to do this together. Thank you to all the volunteers, thanks to Essilor, and thank you Tim Shriver for leading the way towards inclusive communities. You can count on Marshall B. Ketchum University to be at the ready as we bring our optometrists, our physician assistants and soon our pharmacists to serve the Healthy Athletes program on behalf of the Special Olympics."
Over light refreshments, guests celebrated the extraordinary partnership between Special Olympics and the Essilor Vision Foundation. The Essilor Student Center at MBKU was flanked with images of athletes who have benefited from the company's generosity.
Tim Shriver, Chairman, Special Olympics, Hubert Sagnieres, Chairman & CEO, Essilor International and Stephanie Handojo, star athlete, followed Dr. Alexander at the podium to inspire the crowd for continued support.
The evening concluded with a commitment by all to continue building on the vision that Eunice Kennedy Shriver had over 55 years ago to provide year-round sports training and athletic competition in a variety of Olympic-type sports for children and adults with intellectual disabilities, giving them continuing opportunities to develop physical fitness, demonstrate courage, experience joy and participate in a sharing of gifts, skills and friendship with their families, other Special Olympics athletes and the community.
About Marshall B. Ketchum University
MBKU is now home to the Southern California College of Optometry and the College of Health Sciences. The university confers a four-year, professional degree, Doctor of Optometry (O.D.) and a Master of Science in Vision Science (M.S.) degree. MBKU's School of Physician Assistant Studies under the College of Health Sciences awards a Master of Medical Sciences (M.M.S.) degree. MBKU has recently announced plans to establish a College of Pharmacy and plans to welcome its first class in the fall of 2016. MBKU owns and operates two premier eye and vision care centers – University Eye Center at Fullerton and University Eye Center at Los Angeles. Marshall B. Ketchum University closed on a deal in January, 2015 to purchase a building in Anaheim, CA. The building will be the new home of Ketchum Health, currently the University Eye Center housed at MBKU's main campus in Fullerton. In addition, the new space will allow for expansion of additional primary health care services, as well as a pharmacy.
###