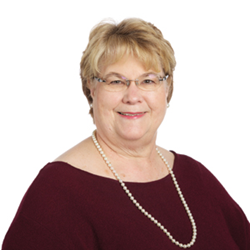 On behalf of the entire university, I'd like to congratulate Dr. Voorhees for this prestigious honor. -President Alexander
FULLERTON, CA (PRWEB) July 20, 2015
Vision Monday selected Marshall B. Ketchum University's own Lorraine Voorhees, O.D., M.S. from a large pool of reader-nominated candidates to appear on the publication's annual list of influential women in the optical industry. Voorhees, a 1971 graduate of the Southern California College of Optometry, has worked at the university since 1972; for the first eight years as a member of the faculty and since 1980 as an administrator. She also received a Master of Science degree with a concentration in Higher Education from California State University at Fullerton.
Today, Voorhees serves as the vice president for student affairs and is the first person to hold this position at MBKU. She is an expert in matters pertaining to admissions, recruitment, student financial aid, student government and organizations, student academic records, and student services; she also acts as a student advocate and liaison between the students and the administration.
"On behalf of the entire university, I'd like to congratulate Dr. Voorhees for this prestigious honor," said University President, Kevin Alexander, O.D., Ph.D. "For over 40 years, Lorraine has dedicated herself to the Southern California College of Optometry. Today, the SCCO is one of the nation's leading optometry schools, and MBKU is its home. Under Dr. Voorhees' leadership, student affairs effectively serves optometry students and now, physician assistant students. I am confident that the students admitted through our planned College of Pharmacy will receive exceptional support and guidance from Lorraine and her staff as well."
Voorhees has held numerous volunteer positions in the American Optometric Association, the Association of Schools and Colleges of Optometry and the American Academy of Optometry. She also chaired a national conference on Optometric Students, which was part of the Summit on Optometric Education series. Her areas of research interests are predictors of academic success in the curriculum and on the National Board exams and the influence of gender on career decisions and practices among optometry students and among optometric practitioners.
Dr. Voorhees was humbled by the award and noted, "I feel fortunate to have spent my career serving my alma mater." She continued, "As MBKU continues to grow, I am excited by the opportunity to serve and mentor students from multiple disciplines. I feel honored to receive this acknowledgment and would like to also congratulate the rest of Vision Monday's honorees."
Vision Monday's "#HerStory" issue can be accessed on their website at http://visionmonday.com/digital-editions/. Women across the industry were chosen in the following categories: Executive Suite, Rising Stars, Mentors and Innovators. This year's winners join a distinguished group of nearly 500 Influential Women whom Vision Monday has profiled since 2003.
About Marshall B. Ketchum University
MBKU is now home to the Southern California College of Optometry and the College of Health Sciences. The university confers a four-year, professional degree, Doctor of Optometry (O.D.) and a Master of Science in Vision Science (M.S.) degree. MBKU's School of Physician Assistant Studies under the College of Health Sciences awards a Master of Medical Sciences (M.M.S.) degree. MBKU has recently announced plans to establish a College of Pharmacy and plans to welcome its first class in the fall of 2016. MBKU owns and operates two premier eye and vision care centers – University Eye Center at Fullerton and University Eye Center at Los Angeles. Marshall B. Ketchum University closed on a deal in January 2015 to purchase a building in Anaheim, CA. The building will be the new home of Ketchum Health, currently the University Eye Center housed at MBKU's main campus in Fullerton. In addition, the new space will allow for expansion of additional primary health care services, as well as a pharmacy.
###