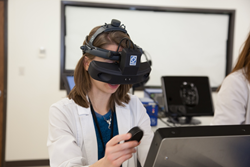 The Joseph F. Taylor Simulation Lab is a perfect example of what we are all about at MBKU: reimagining the future of health care education, says President Alexander.
FULLERTON, CA (PRWEB) March 15, 2016
Marshall B. Ketchum University will hold a ceremony on March 28, 2016 to dedicate its new simulation lab and celebrate SCCO's innovative approach to using technology in its curriculum.
VRmagic is a leading provider of virtual reality and augmented reality simulators for medical training. MBKU's SCCO is among the early adopters of the Eyesi Indirect and Eyesi Direct Ophthalmoscope Simulators.
The lab will be named after Joseph F. Taylor, OD, an alumnus of the Los Angeles College of Optometry from the class of 1949. Taylor, who passed away at the age of 86 in July 2006, and his wife, Peggy, generously planned an estate gift for the university's Southern California College of Optometry which helped to fund the purchase of the state-of-the-art technology.
"We are honored by Dr. Taylor's generous gift which has made this lab possible," says University President Kevin Alexander, OD, PhD. "Dr. Taylor has left a legacy that will continue to grow and develop future health care professionals for years to come."
Dr. Taylor practiced optometry in Santa Barbara, becoming a well-respected leader in the profession and in his community. He encouraged his fellow optometry classmates to stay involved, and set up meetings to discuss local challenges. As a result, The Joseph Taylor Educational Seminars for continuing education were born in the Ventura area. Dr. Taylor represented his alma mater with great pride, carrying forward the values such as innovation, caring and excellence that MBKU still holds today.
"The addition of the Taylor Simulation Lab allows SCCO to continue moving forward in providing cutting-edge optometric education. We will be able to provide our students — in their first and second years — essential clinical skills, including direct ophthalmoscopy and binocular indirect ophthalmoscopy," says SCCO Dean Stanley Woo, OD, MS, MBA. "We are very excited to honor our core values of innovation and excellence. We seek to put our students first. With the help of alumni, like Dr. Taylor, we can continue deploying resources to ensure our students have access to the finest available technology to help realize their dream to be the best doctors of optometry they can be."
The ceremony will take place at the site of the new simulation lab at the Ketchum University main campus in Fullerton, California. The simulators allow students to practice ophthalmoscopy exams on virtual patients, which will provide more time and access to practice key clinical skills. The incorporation of clinical cases in a modular approach increases in complexity and decision making as competency is developed for each stage. With the leadership of Associate Dean for Academic Affairs Dr. Raymond Chu, and SCCO faculty members Drs. Lu and Lee, the simulators have been thoughtfully integrated into the curriculum and will give students a valuable tool for procedural and diagnostic feedback to fine-tune students' skills before they perform real-life examinations.
"The Joseph F. Taylor Simulation Lab is a perfect example of what we are all about at MBKU: reimagining the future of health care education," says President Alexander.
Marshall B. Ketchum University is proud to count this and other estate gifts, corporate contributions and individual gifts in its first comprehensive fundraising campaign. ACHIEVING 20|20: The Campaign for MBKU will make its official public launch this year. Dedicated alumni, grateful patients and generous community supporters will help MBKU reimagine the future of health care education. For more information contact University Advancement at advancement(at)ketchum.edu.
About Marshall B. Ketchum University
Located in Fullerton, CA, Marshall B. Ketchum University is an independent, private, non-profit, accredited educational institution. MBKU is now home to the Southern California College of Optometry, the School of Physician Assistant Studies and planned College of Pharmacy. Named after the founder of the optometric institution in 1904, the change to a university structure addresses the growing demand for highly skilled health care professionals. The university confers a four-year, professional degree, Doctor of Optometry (OD) and a Master of Science in Vision Science (MS) degree. MBKU's School of Physician Assistant Studies under the College of Health Sciences awards a Master of Medical Sciences (MMS) degree. MBKU is establishing a College of Pharmacy and plans to welcome its first class in the fall of 2016. MBKU owns and operates two premier eye and vision care centers – University Eye Center at Fullerton and University Eye Center at Los Angeles. In the spring of 2016, MBKU will open its newest facility, Ketchum Health in Anaheim, CA. The health care center will be the new home of the University Eye Center, currently housed at MBKU's main campus in Fullerton, CA. Ketchum Health will deliver expanded, state-of-the-art diagnosis and treatment facilities to Anaheim, CA and the surrounding communities including specialty eye care, primary health care for families, as well as pharmacy services. Ketchum Health promises to expand on the exceptional clinical experience offered at MBKU and to provide patients a strategically integrated, comprehensive team approach to care.
###