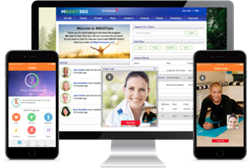 This is the wave of the future, creating true results with measurable data as the norm, rather than the exception, in practices of all sizes from small to large.
New York, New York (PRWEB) February 29, 2016
MBODY360 Co-founders Kari Thorstensen and Edward Keenan, together with Advisory Board Member and 'Happy Gut' Author Dr. Vincent Pedre, introduced the MBODY360 platform to a packed room of doctors, nutritionist, coaches and integrative healthcare leaders, at a special technology session presented by Evolution of Medicine and The Functional Forum, in conjunction with the Integrative Healthcare Symposium (IHS), which was being held at the Hilton Midtown.
According to CEO Kari Thorstensen, "We chose to announce the launch of MBODY360 at IHS because these practitioners, doctors and coaches are exactly the people we created MBODY360 for. Integrative medicine and health & wellness practitioners are the best hope at treating and preventing the root causes of the chronic illnesses and diseases that plague the US and the world. We built MBODY360 for them, so that they can manage and grow their health and wellness practice, and help more people get well."
MBODY360 is designed as a powerful new practice management tool that provides a complete mobile solution for health, nutrition and wellness coaching, plan management and communications. MBODY360 stands out amidst the multitude of consumer health and corporate wellness apps as the only platform and mobile app created specifically to meet the needs of professional health and wellness practitioners including Integrative and Functional Medicine Doctors, Naturopaths, Nutritionists, and Health & Wellness Coaches. The MBODY360 platform is being offered as an affordable subscription-based platform that is effective and scalable for both independent practitioners and larger practices.
Dr. Pedre, Medical Director of Pedre Integrative Health, Clinical Instructor at Mt. Sinai, and author of Happy Gut, stated, "MBODY360 is what I believe to be a ground-breaking mobile app that links the patient to the practice through lifestyle management programs and wearables. This is the wave of the future, creating true results with measurable data as the norm, rather than the exception, in practices of all sizes from small to large."
MBODY360 will be available for free trial by invitation to any integrative health and wellness practitioner, via the company's website, http://www.mbody360.io.
About MBODY360
Imbodi, Inc. is a privately owned health & wellness technology company. Our mission is to empower integrative health and wellness practitioners to lead the world to better health. Our flagship product, MBODY360, is a subscription-based service (Software as a Service - SaaS) for health & wellness practitioners, nutritionists and coaches that enables them to deliver their own customized health & wellness plan in a mobile app. The MBODY360 platform provides practitioners with real-time tracking and monitoring, plan management for individuals and groups, automated reminders to improve engagement and compliance, and instant communications to improve support between visits.
About Dr. Vincent Pedre
Dr. Vincent M. Pedre III is a board-certified Internist, Medical Director of Pedre Integrative Health, and the author of the Happy Gut: The Cleansing Program to Lose Weight, Gain Energy, and Eliminate Pain (HarperCollins, December 2015), which features his Gut C.A.R.E. Program™ for balancing the gut microbiome, and the Happy Gut Diet—his proprietary program for healing the gut and creating total body wellness. In addition to being an Advisory Board Member of MBODY360, he is the CEO of Dr. Pedre Wellness, and Health Advisor to Healthwave.co.
Website http://www.pedremd.com/ On Facebook: https://www.facebook.com/DrVincentPedre/
About The Evolution of Medicine & Functional Forum
The Functional Forum, presented by the Evolution of Medicine, is the world's largest integrative medicine conference. On the first Monday of every month, this new concept in practitioner education, "medutainment", brings together the latest health news, functional medicine research, practice development and health technology in an upbeat, entertaining way. http://functionalforum.com/
About The Integrative Healthcare Symposium
The Integrative Healthcare Symposium Annual Conference is the only event where multi-disciplinary practitioners come together as a cohesive community. Attendees gather each year to connect, learn, collaborate, and return to their practices with insights and techniques they can immediately incorporate into their patient practice. http://www.ihsymposium.com/annual-conference/
Contact Information
For press inquiries email press(at)mbody360(dot)io or call 212-500-1180 x707
Visit MBODY360 on the web: http://www.mbody360.io
Facebook: https://www.facebook.com/mbody360/