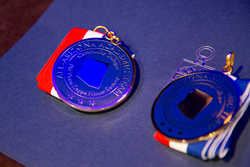 Tempe, AZ (PRWEB) February 19, 2015
At its 20th Annual All-Arizona Academic Awards Luncheon on Feb. 18, the Phi Theta Kappa organization will honor academic all-stars from Arizona community colleges including 26 students from across the ten Maricopa Community Colleges.
To be eligible for the award, students must maintain a GPA of 3.5 or higher on a 4.0 scale, be in good academic standing, be working on an associate's degree, demonstrate leadership, and interact with their community as a college ambassador. The honorees are as follows:
Maricopa Community Colleges Student Winners (1st, 2nd, or 3rd team)
Emily Alcazar (1st), South Mountain
Fern Van Vilet (1st), Glendale
John Field (1st), Rio Salado College
Whitney Vizzini (1st), Chandler-Gilbert
Lori Fuzak (1st), Chandler-Gilbert
Bailey Wilson (1st), Paradise Valley
Riana Jacquez (1st), Estrella Mountain
Alisha Brown (2nd), Mesa
Brett Laine (1st), Glendale
Chet Martinez Droeg (2nd), Glendale
Valerie Le Grande (1st), Mesa
Rex Moore (2nd), Rio Salado
Monica LeMoine (1st), Estrella Mountain
Cassandra Roose (2nd), Chandler-Gilbert
Kristi-Lee Mathiesen (1st), South Mountain
Michael Stanley (2nd), Glendale
Geneva Patterson (1st), Paradise Valley
Gabriela Hebronova (3rd), Scottsdale
Cecile Sharp (1st), Chandler-Gilbert
Dorka Nsagane (3rd), GateWay
Gilberto Sosa Mendoza (1st), Phoenix College
Natalie Relitz (3rd), Phoenix College
Andrew Sypher (1st), Mesa
Dawn Taylor (3rd), Scottsdale
Jonathan Talos (1st), Mesa
Nannan Zhang (3rd), GateWay
###
Phi Theta Kappa (PTK) recognizes and encourages scholarship among two-year college students by providing opportunity for the development of leadership and service, for an intellectual climate in which to exchange ideas and ideals, for lively fellowship for scholars, and for stimulation of interest in continuing academic excellence.
The Maricopa Community Colleges system includes 10 colleges – Chandler-Gilbert, Estrella Mountain, GateWay, Glendale, Mesa, Paradise Valley, Phoenix, Rio Salado, Scottsdale and South Mountain, two skill centers, and several satellite campuses and business/ industry, technical and customized training institutes. It also includes the Maricopa Corporate College, which delivers market-relevant, customized workforce solutions. The Maricopa County Community College District is an EEO/AA institution and an equal opportunity employer of protected veterans and individuals with disabilities. http://www.maricopa.edu.