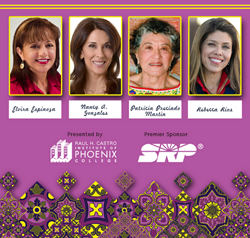 Phoenix, AZ (PRWEB) April 26, 2015
The Raul H. Castro Institute at Phoenix College is excited to invite the public to celebrate the 2015 class of Arizona Latina Trailblazers.
These four women will join a cohort of civil rights pioneers, politicians, and leaders of industry as shining examples of the Latina community in Arizona at the seventh annual Arizona Latina Trailblazers celebration on Wednesday, April 29, 2015, at 5:30 p.m.
The free event will take place in the Great Hall of the Phoenix Art Museum, located at 1625 N. Central Avenue.
This year's honorees include:
Elvira Espinoza, business leader and media pioneer – Co-founder of Unidos Magazine and CAMBIO, a bi-lingual magazine. She was the first Latina publisher of two major Spanish print publications in Maricopa County, La Voz and TV y Mas.
Dr. Nancy A. Gonzales, Arizona State University Foundation Professor of Psychology and director of ASU Prevention Center – Esteemed clinical psychologist who is recognized nationally for her work on adolescent mental health. She is a strong advocate for research and policies that affect Latino youth.
Patricia Preciado Martin, historian and award-winning writer – Author of six published books, her fiction and non-fiction work documents the history and culture of the Mexican-American community, helping to preserve the Hispanic heritage of Arizona.
Rebecca Rios, Arizona State Representative – Served as a member of Arizona State Senate, representing District 23, from 2005 to 2010. She was elected in 2014 to serve as an Arizona State Representative for District 27, making her the highest ranking Latina in the Arizona House of Representatives.
The event will include light hors d'oeurves, live flamenco music, and the premiere of a digital collection of the women's stories, "Arizona Latina Trailblazers: Stories of Courage, Hope and Determination, Vol. VII."
Highlighting the lives of these four outstanding women who have left their mark in our communities, this educational resource is being contributed to the Raul H. Castro Institute's collection for the Arizona Memory Project, a series of online Arizona history resources housed on the State Library's website.
In addition, booklets and DVDs of the Trailblazers' stories are being distributed to local public libraries.
In light of the recent passing of Governor Raul H. Castro, the namesake and inspiration of the RCI, the evening will begin with a tribute to the life and legacy of Arizona's first and only Mexican-American governor.
Honoring the trials and triumphs of Arizona women, the RCI's Arizona Latina Trailblazers continues Governor Castro's tradition of using stories from the past to inspire action in the future.
Arizona Latina Trailblazers is made possible through the generous support from its premier sponsor Salt River Project (SRP), as well as support from Phoenix College, Univision Local Media, APS and the Lacey and Larkin Frontera Fund.
---
About the Raul H. Castro Institute
Named after the first and only Mexican-American governor of Arizona, The Raul H. Castro Institute is a collaborative effort of the Office of the Governor, State of Arizona; Arizona State University's Center for Community Development and Civil Rights; Maricopa County Community College District; and Phoenix College. A nonprofit organization, the RCI is a "do tank" focusing on issues that affect the Arizona Latino community, with emphasis on education; health and human services; leadership; and civic participation.
About Salt River Project
Salt River Project proudly supports the rich diversity of the Hispanic community and its customers with effective programs that reach underserved populations. As the largest provider of electricity and water to the greater Phoenix area, SRP is committed to supporting the community through innovative initiatives and activities.