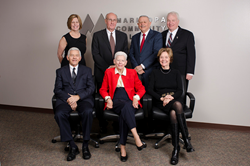 Tempe, AZ (PRWEB) May 15, 2015
At a May 26 public hearing, the Maricopa Community Colleges Governing Board will consider a budget for 2015-16 that contains no increase in tuition or property taxes.
The budget of $1.49 billion represents a decrease of 213 million, or 12.51%, compared to current spending, a decrease largely attributed to a decline in capital spending as the District winds down projects financed with the proceeds of the 2004 bond election. The proposed General Fund budget totals $731 million, a decrease of $43 million that reflects a decline in the use of Fund Balance.
The budget also reflects the elimination of $8.8 million in state aid, which happened when the state legislature approved its 2015-16 budget with no allocation for the Maricopa Community Colleges.
Because of the overall increase in Net Assessed Valuation on property throughout the county, the total property tax rate (operation and debt service) is estimated to decrease slightly from the FY2014-15 level ($1.4940 per $100 of assessed valuation in FY2015-16 versus $1.5187 in FY2014-15). This means that the owner of a home valued at $100,000 in FY2014-15 paid $151.87 per year, while in the coming fiscal year the property tax on a home valued at $100,000 would decrease by $2.47 to an annual amount of $149.40. This example assumes there is no change in the valuation of the home; if the home value increased or decreased, the amount of taxes owed would also change.
About 60% of the District's operational budget is generated by property taxes. The Maricopa Community Colleges are the state's single largest provider of higher education and job training. They also are the largest transfer partner with Arizona State University.
The publicly elected seven-member Governing Board will meet on Tuesday, May 26, 2015 at the Maricopa Community Colleges District Office, 2411 W. 14th Street, Tempe, Arizona at 6:30 pm. The Governing Board will consider a motion to approve the budget by a roll call vote. The 2015-16 fiscal year begins July 1.
###
About Maricopa Community Colleges
The Maricopa Community College system includes 10 colleges – Chandler-Gilbert, Estrella Mountain, GateWay, Glendale, Mesa, Paradise Valley, Phoenix, Rio Salado, Scottsdale and South Mountain. It also includes the Maricopa Skill Center, Southwest Skill Center, Maricopa Corporate College and several satellite campuses and business/industry, technical and customized training institutes.
The Maricopa County Community College District is an EEO/AA institution and an equal opportunity employer of protected veterans and individuals with disabilities.