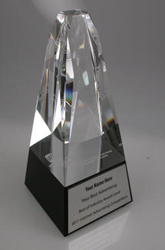 The campaign pays tribute to the unmatched quality of education and training available to our students, but it also highlights caliber of students who choose to attend one or more of our colleges. --Carol Diego, Director of District Marketing
Tempe, AZ (PRWEB) April 07, 2014
The Maricopa Community Colleges today announced that their recent advertising campaign, which features dozens of successful Maricopa students and alumni, has been recognized with two national awards. The campaign, simply titled "Meet Success," appears online and shares the educational and personal journeys of nearly 50 current and former Maricopa students.
In March, the campaign received a Paragon Award from the National Council for Marketing and Public Relations (NCMPR) at the their annual conference in New Orleans, LA. As one of the fastest growing affiliates of the American Association of Community Colleges, NCMPR has more than 1,550 members from more than 650 colleges across the United States, Canada and other countries.
The campaign also received the "Best Online Education Campaign" award from the Internet Advertising Competition (IAC), which is hosted by the Web Marketing Association (WMA). WMA promotes award winners through its web site, the WMA Blog, on Facebook and LinkedIn and through thousands of emails to mailing and newsletter lists. They also issue a press release and implement a media relations campaign about the announcement to draw media attention to the award winners.
Graduates in the campaign include student veterans, single parents, entrepreneurs, teachers, chefs, political leaders, artists and more. Some of the more public faces include: Kara Kalkbrenner, Acting Fire Chief of the Phoenix Fire Department; Gonzalo de la Melena, President/CEO of the Arizona Hispanic Chamber of Commerce; and Marshall Trimble, noted author and Arizona historian.
"We are proud of the stories Maricopa students have to share," said Carol Diego, District Director of Marketing at the Maricopa Community Colleges. "Our students have gone on to be local and national leaders in many industries. The campaign pays tribute to the unmatched quality of education and training available to our students, but it also highlights caliber of students who choose to attend one or more of our colleges. We could literally feature thousands of them."
###
The Maricopa Community College system includes 10 colleges – Chandler-Gilbert, Estrella Mountain, GateWay, Glendale, Mesa, Paradise Valley, Phoenix, Rio Salado, Scottsdale and South Mountain. It also includes a Corporate College, the Maricopa Skill Center, Southwest Skill Center, and several satellite campuses and business/industry, technical and customized training institutes.
The Maricopa County Community College District is an EEO/AA institution and an equal opportunity employer of protected veterans and individuals with disabilities.