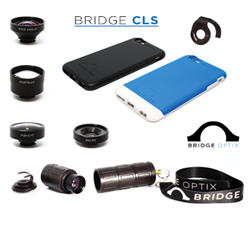 Thanks to their gear I have won film festivals around the world. --Conrad Mess, Award-Winning iPhone Filmmaker
Phoenix, AZ (PRWEB) March 20, 2015
Bridge Optix, formerly Smart Phocus, has created its new Case and Lens System (CLS) that combines the need of a bulk free and protective case for daily use with camera enhancing features such as lenses, their patented Selfie Clip and the ability to attach pro accessories when desired.
The company, which is headquartered at the Center for Entrepreneurial Innovation (CEI) business incubator, is seeking $50,000 in crowdfunding from the March 17 launch of its Kickstarter campaign.
The company has already received accolades for its inventive approach to smart device photography and videography by the world's most respected smartphone photographers and filmmakers.
"I've been working with Bridge Optix since 2011," said Conrad Mess, award-winning iPhone filmmaker. "Thanks to their gear I have won film festivals around the world. Their products have allowed me to compete and win against films shot with traditional cameras."
Bridge Optix's high quality and easy to learn camera system protects the iPhone through the daily grind as well as during more adventurous feats. Equipped with removable lenses, the CLS empowers everyone from novices to experts to take better pictures. Bridge Optix lenses are designed specifically for smart devices to work in harmony with the factory optics. Available lens types include Fisheye, Macro, Portrait and Wide Angle. Each lens works with any app, like Instagram, Snapchat and the manufacturer included camera app. For ultimate production ability tripods, lights, microphones and other non proprietary camera gear can be mounted to the CLS by using a simple snap on Bridge Optix accessory.
"We've invested a lot of time and resources into upgrading our products, and we are thrilled about the results we've achieved for photographers and filmmakers from all walks of life," said Bridge Optix CEO, Phil Felice. "Six years of market research went into developing the CLS' features and we can't wait to see how far we can take our company mission through funds raised on Kickstarter."
Bridge Optix is seeking $50k in crowdfunding. The capital will be used to create the molds needed to ramp up product production. In addition, the funds will help quicken product development (like the Android CLS counterpart) and future lenses will be pushed forward for earlier release. The Kickstarter campaign will offer ten levels of rewards depending on pledges ranging from $5-$349 with a limited edition collectors item for $2,499. Believers in making high-quality photos and videos accessible to everyone can support Bridge Optix on Kickstarter.
###
About CEI
An initiative of the Maricopa Corporate College, the Center for Entrepreneurial Innovation is a community-based business incubator located on the campus of GateWay Community College in the heart of Discovery Triangle. With funding from the US Economic Development Administration, City of Phoenix and Maricopa Community College District, CEI provides targeted business services and proactive business support to create a systematic link between technology development, compelling markets and opportunities; entrepreneurial and managerial talent development; early stage capital sourcing; and education and training, interns, coaching and business counseling.
About Bridge Optix
Bridge Optix is a Phoenix-based optics and phone case company that makes photography and videography an easy process for everyone, yielding high quality results. The business is well developed with a team of six and backed by the incubator Center for Entrepreneurial Innovation (CEI) and participated in by executives from HubSpot, Blue Media, and former GoDaddy executives. From novices to experts, Bridge Optix's case and lens system offers smartphone protection, along with numerous lenses and attachments that promise ease of use and amplified quality.