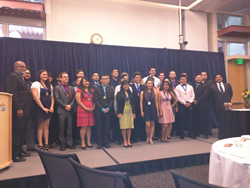 Tempe, AZ (PRWEB) May 10, 2015
Maricopa Community Colleges' Chancellor Rufus Glasper today awarded 31 students with a Civic Leadership Medallion. Civic engagement – active involvement in college campus and community life – is a cornerstone of Maricopa Community Colleges' mission.
Each year, many Maricopa students exemplify what it means to be highly engaged. Chancellor Glasper created the award to acknowledge these students and to encourage others to follow their example. This honor highlights students' effective civic participation and leadership as a central goal and function of higher education.
"Through the Maricopa Community Colleges I found my voice," said Gilberto Sosa, an honoree from Phoenix College. "Not only did I find out how to better represent my peers, but I also found out how to help my community have a strong voice, especially those who cannot fend for themselves on the political stage. Through Maricopa Community Colleges, I have met people whose perspectives are different than mine. That's made me a better individual."
To be considered for this honor, students must demonstrate broad general and educational contribution to the campus and community and increase students' and community involvement in governmental processes (i.e., public policy). They must help grow awareness about critical community and political issues or ones that expand students' and community members' capacity for leadership and political efficacy. Congratulations to the 2015 honorees:
Estrella Mountain Community College
Dylan Warner
Glendale Community College
Juan Aceves
Teresa Bruno
Robbie Carrillo
José Castillo
Maria Elizarraraz
Ariel Garcia
Andre Garcia
John Garduno
Anthony Lee
Jessica Mateo
Ricardo Moran
Victoria Moreno
Aika Nelson
Jesus Saldana
Anay Valdez
Mesa Community College
Craig Barnes
Martin Cordova
Valerie LeGrande
Christopher O'Connor
Rukiya O'Garro
Sean West
Phoenix College
Gilberto Sosa
Paradise Valley
Mario Marquez
Geneva Patterson
Jerry Raburn
Rio Salado College
Daniel Cassidy
Scottsdale Community College
Marli Mayon
Dahlia Oktasiani
Nicholas Stevenson
South Mountain Community College
Belinda Escalante
###
The Maricopa Community Colleges system includes 10 colleges – Chandler-Gilbert, Estrella Mountain, GateWay, Glendale, Mesa, Paradise Valley, Phoenix, Rio Salado, Scottsdale and South Mountain, two skill centers, and several satellite campuses and business/ industry, technical and customized training institutes. It also includes the Maricopa Corporate College, which delivers market-relevant, customized workforce solutions and education for students and employees in virtually every industry sector. The Maricopa County Community College District is an EEO/AA institution and an equal opportunity employer of protected veterans and individuals with disabilities.