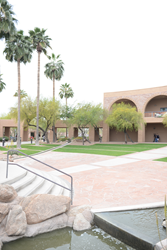 This event is a great opportunity for businesses and organizations to tap into the resources that our students can provide, with very diverse talents and interests. --Izelle Silva, EMCC Program Advisor
Avondale, AZ (PRWEB) August 30, 2015
On September 30, 2015, the Career and Transfer Center (CTC) at Estrella Mountain Community College (EMCC), one of the 10 regionally accredited Maricopa Community Colleges, will be hosting a Job Expo to provide a professional, open venue for employers to network with college students pursuing employment information and opportunities.
The Expo has expanded to much more than just a typical job and career fair. It now offers a larger platform for both employers and students by providing connections to internships, job shadowing, service learning opportunities, and of course full- and part-time positions.
EMCC is inviting businesses, companies, organizations and non-profits of all sizes to participate in the Job Expo for a vibrant exchange of employment opportunities and conversations. Vendor spaces are free and limited. Online Job Expo applications are available and must be received by September 16.
"This event is a great opportunity for businesses and organizations to tap into the resources that our students can provide, with very diverse talents and interests," said Izelle Silva, EMCC Program Advisor for the CTC. "It's really a much more convenient, one-stop way for everyone involved to learn about employment, internship and service learning opportunities."
Serving the community and volunteerism is not new to EMCC. Many instructors embed community service projects as part of their required curriculum and class syllabus, but now there is a structured Service Learning program at EMCC to streamline those community connections.
"Service learning is not an internship, but a way for students to align a community service project with their personal passion or academic major," said Silva.
The Fall 2015 Job Expo will be held on Wednesday, September 30, from 9 a.m. – 1 p.m., on the EMCC campus located at 3000 N. Dysart in Avondale. For more information, contact landis.elliott(at)estrellamountain(dot)edu or call (623) 935-8220.
# # #
Estrella Mountain Community College offers academic courses leading to associate degrees, university transfer, certificates and short-term job training to more than 14,000 students annually. The flagship campus is located on Thomas and Dysart Roads in Avondale and is home to the SouthWest Skill Center. The satellite campus, EMCC's Buckeye Educational Center, is located in downtown Buckeye. Estrella Mountain is one of ten colleges in the Maricopa County Community College District, one of the largest community college districts in the nation.