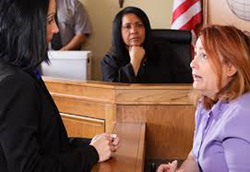 This seminar will help participants gauge where they stand in relation to achieving formal certification to work in state and federal courts, and identify individual strengths and areas of improvement. --Dr. Courtney Coffey
Avondale, AZ (PRWEB) April 11, 2015
To assist in the training and development of needed, qualified interpreters, Estrella Mountain Community College (EMCC) will be hosting a three-day Court Interpreting Training seminar on April 29 – May 1, 2015, presented by the National Center for Interpretation (NCI) at University of Arizona (UA).
In the courtroom, legal terms can often seem like a foreign language to the many of us who are not in the law or legal professions.
Consider the further confusion for individuals who are mainly Spanish speaking, when any misunderstandings can have a profound impact on due process and the outcome of legal proceedings.
NCI is a research and outreach unit at UA charged with promoting intercultural communication and social justice for language minorities through cutting-edge research, training and testing.
The training is being offered exclusively through the Community Education program at EMCC as a non-credit, personal enrichment opportunity for anyone interested in developing a career as a Spanish interpreter for the court systems.
There are no prerequisites or pre-testing required for the seminar, however the participants must be bilingual Spanish-English speakers. Court interpreting requires advanced proficiency in both languages.
According to Dr. Courtney Coffey, Coordinator for Customized Training for NCI, career readiness is dependent on the individual's bilingual proficiency, knowledge of specialized terminology, skill level of the various translation modes, and the discipline and commitment to practice and improve.
For example, a balanced bilingual with no legal interpreting experience could conceivably pass an oral exam after six to twelve months with intensive practice. Individuals who have novice or intermediate proficiency in English or Spanish might take longer.
"This seminar will help participants gauge where they stand in relation to achieving formal certification to work in state and federal courts, and identify individual strengths and areas of improvement," said Dr. Coffey.
Participants will learn the foundations of legal procedures and terminology, interpreter ethics and protocol, and the three interpreting modes used in the court system – simultaneous, consecutive, and sight translation. Authentic court scripts will be used in classes to represent the real-life specialized terminology found in warrants, police reports, Miranda statements, indictments, arraignments, motions, open and closing statements, and sentencing.
The seminar will be held on three consecutive days, April 29 - May 1, Wednesday through Friday, 8 a.m. – 5 p.m., on the EMCC campus, located at 3000 N. Dysart Rd. in Avondale, AZ. The cost is $445 and successful students will receive a certificate of completion. It also qualifies as Continuing Education credit with the American Translators Association and the National Association for Judicial Interpreters and Translators.
# # #
Estrella Mountain Community College offers academic courses leading to associate degrees, university transfer, certificates and short-term job training to more than 14,000 students annually. The flagship campus is located on Thomas and Dysart Roads in Avondale and is home to the SouthWest Skill Center. The satellite campus, EMCC's Buckeye Educational Center, is located in downtown Buckeye. Estrella Mountain is one of the 10 regionally accredited colleges in the Maricopa County Community College District, one of the largest community college districts in the nation.