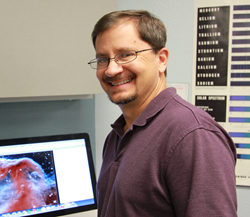 I want the EMCC program to continue to be a leader in TYC physics for the country and influence not only how other TYC's teach physics but also four-year colleges and universities. --Dr. Dwain Desbien
Avondale, AZ (PRWEB) March 11, 2015
The American Association of Physics Teachers (AAPT) has awarded Estrella Mountain Community College (EMCC) faculty, Dr. Dwain Desbien, the 2015 David Halliday and Robert Resnick Award for Excellence in Undergraduate Physics Teaching.
This award is given in recognition of contributions to undergraduate physics teaching and awardees are chosen for their extraordinary accomplishments in communicating the excitement of physics to their students.
Physics is one of the oldest academic disciplines and is the natural science that involves the study of matter and motion through space and time. It can be an overwhelming concept for young college students, but Desbien found a way to propel his students and the EMCC's physics program forward to success.
Desbien was hired by EMCC to start their Physics program in 2001 and built a premier physics teaching program, recognized as one of the ten best Two-Year College (TYC) programs in the United States by AAPT's Spin-Up/TYC Project.
"This award means the world to me as it is my colleagues and friends from around the country that nominated and selected me for this award," said Desbien. "It is also a great honor as TYC faculty do not often get awards like this."
Since 2006, he has been a leader for the TYC Physics Workshop Project, helping conduct three-day intensive workshops around the nation sharing student-tested curricular ideas and activities that have worked successfully in introductory physics at many schools and colleges across the nation. He has been one of the three primary presenters at the TYC New Faculty Training Experiences, and led a series of workshops dedicated to developing new laboratory activities for introductory physics.
Desbien has creatively and tirelessly worked to encourage students to take charge of their own learning. He developed new techniques to achieve that goal, such as Modeling Discourse Management, Circle Whiteboarding, and Seeding. His skills in implementing such techniques has made him a very effective physics teacher. His continued efforts to help others develop these skills have made a major contribution to physics education.
His students are enthusiastic in their praise of his selfless service, support, and creative engineering of learning experiences that empower them to learn in their unique life circumstances.
"I want to continue to innovate and lead by example of how to get students actively involved in their education," said Desbien. "I want the EMCC program to continue to be a leader in TYC physics for the country and influence not only how other TYC's teach physics but also four-year colleges and universities."
Desbien earned his Ph.D. in Physics Education at Arizona State University, his M.S. in Physics at the University of Kansas, and a B.A. in Physics at Grinnell College in Iowa.
The David Halliday and Robert Resnick Award for Excellence in Undergraduate Physics Teaching was established as the Excellence in Undergraduate Teaching Award in 1993. It was renamed and substantially endowed in 2010 by John Wiley and Sons. Named for David Halliday and Robert Resnick, the award recognizes outstanding achievement in teaching undergraduate physics.
# # #
Estrella Mountain Community College offers academic courses leading to associate degrees, university transfer, certificates and short-term job training to more than 14,000 students annually. The flagship campus is located on Thomas and Dysart Roads in Avondale and is home to the SouthWest Skill Center. The satellite campus, EMCC's Buckeye Educational Center, is located in downtown Buckeye. Estrella Mountain is one of the 10 regionally accredited colleges in the Maricopa County Community College District, one of the largest community college districts in the nation.