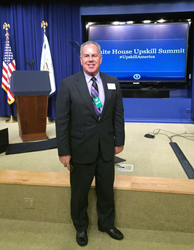 We are committed to developing solutions that address both employer and employee needs to help build a stronger Arizona economy. --Dr. Eugene Giovannini
Scottsdale, AZ (PRWEB) May 03, 2015
After participating in the White House Upskilling Summit on April 24, Maricopa Corporate College (MCOR) president, Dr. Eugene Giovannini, has committed to increasing MCOR's efforts to address Arizona's workforce needs.
The event brought together Vice President Joseph Biden, several high-ranking members of the Obama administration and 150 business and education leaders from across the country to discuss upskilling low-wage workers to better paying jobs.
Giovannini was chosen to represent MCOR at the event because of the college's innovative approach to workforce training. Most of those in attendance represented various employers; however, a select few community and technical colleges were invited as well.
The U.S. Department of Labor and the U.S. Department of Education were both independently tasked with creating a list of five colleges from across the nation to invite to the event. MCOR is the only college to be included on both departments' lists, which demonstrates MCOR's national reputation for being a leader in workforce solutions.
As part of the event, participants were called upon to make commitments to this upskilling initiative. MCOR, who is currently working with several Arizona businesses to develop and implement internal career pathways, has committed to expanding those efforts to meet the demands of today's workforce.
The first step to meeting these demands is to increase awareness of the importance of businesses and educational institutions working together to develop training solutions.
"Training increases workers' productivity," Biden said. "It leads to less turnover, which means employers don't have to spend more money down the road to hire and train new workers and it increases innovation and profitability by unleashing the talent of your own employees."
These relationships and the solutions that result from them are critical to keeping pace with the ever-changing workforce, which is why MCOR has committed to spreading this idea throughout Arizona's business community.
MCOR has also committed to increasing partnerships with Arizona employers in order to assess their training and education needs, creating customized solutions that will foster upskilling within those organizations, continuing to develop programs that aim to fill high-paying open positions and increasing enrollment in personal professional education programs.
"We are here to respond to the workforce needs, no matter how varied they may be," Giovannini said. "We are committed to developing solutions that address both employer and employee needs to help build a stronger Arizona economy."
About Maricopa Corporate College (MCOR):
From entry-level to executive training, MCOR delivers market-relevant, customized workforce solutions and education for employees in virtually every industry sector. Through a strategic business partnership model, MCOR assesses workforce training and education needs and develops and delivers customized and integrated solutions to meet those needs throughout all levels of an organization. MCOR is part of the Maricopa Community Colleges — one of the largest higher education systems in the nation with nearly 250,000 students, and a model of excellence internationally.