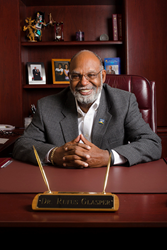 (PRWEB) December 10, 2014
Chancellor Rufus Glasper will be given the Dwight Patterson Lifetime Achievement Award by the East Valley Partnership. This award is given to a person who lives or works in the East Valley, is well respected, has made significant lifelong contributions to their community and is a true leader.
Read Dr. Glasper's biography online to learn more.
WHEN: Thursday, Dec. 11
3:30 pm – Registration
4:00 pm – Networking Reception
5:00 pm – Program Begins
6:30 pm – Approximate Program End
WHERE: Phoenix Marriott Mesa. 200 N. Centennial Way, Mesa.
WHO: The East Valley Partnership, a regional coalition of community, business, educational, and government leaders whose goal is to provide leadership and support in specific areas of focus, thereby improving business and quality of life in the region.
###
The Maricopa County Community College District includes 10 regionally accredited colleges – Chandler-Gilbert, Estrella Mountain, GateWay, Glendale, Mesa, Paradise Valley, Phoenix, Rio Salado, Scottsdale and South Mountain. It also includes the Maricopa Skill Center, Southwest Skill Center, Maricopa Corporate College and several satellite campuses and business/ industry, technical and customized training institutes.
The Maricopa County Community College District is an EEO/AA institution and an equal opportunity employer of protected veterans and individuals with disabilities.