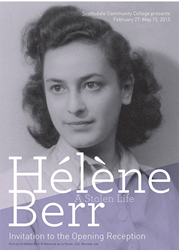 Only by documenting these difficult episodes in history, can we learn from them and avoid repeating those tragic outcomes. --John Liffiton, SCC Genocide Awareness Week Program Coordinator
Scottsdale, AZ (PRWEB) March 08, 2015
To celebrate her illuminating account in the midst of such treachery, Scottsdale Community College will host the "Hélène Berr, A Stolen Life" exhibition from Feb. 27 through May 15, 2015 in the lobby of the Student Center at Scottsdale Community College.
In 1942, Hélène Berr was a bright, young French-Jewish woman attending Sorbonne University in Paris. During the next two years of German occupation and Vichy government complicity, her life would begin a downward spiral that ended with her death in a German concentration camp.
Berr was 21 when she started writing the journal that became an exceptional account and beautiful literary representation of the turmoil and tragedy that befell her and her family. She and her parents were eventually deported to Auschwitz in 1944, where they died in concentration camps. In Berr's case, her demise came just days before British soldiers liberated her camp.
"We are proud to host this exhibit and share the exceptional account of Hélène Berr during this brutal period in world history," said John Liffiton, coordinator of SCC's Genocide Awareness Week programming. "Only by documenting these difficult episodes in history, can we learn from them and avoid repeating those tragic outcomes."
To help celebrate the exhibit, an opening reception is set for Monday, March 9, 2015, in the school's Turquoise Room from 6-8 p.m. It is free and open to the public but RSVPs are required. To attend the opening reception, RSVP to Deborah.farnault(at)memorialdelashoa(dot)org by March 6.
In addition to featuring the life of Berr and her family through family documents and reproductions of the original diary, other archives that provide historical context of the daily lives of Jews impacted by the Nazi extermination plan will be on display.
The exhibition is part of the 3rd Annual "Genocide Awareness Week: Not On Our Watch" program, which is presented by SCC Honors and other sponsors. It runs April 13-18. For the full schedule, visit http://www.scottsdalecc.edu/genocide.
This exhibition was designed, created, and distributed by the Mémorial de la Shoah in Paris, France (curators Karen Taieb and Sophie Nagiscarde), with the guidance of Mariette Job (niece of Hélène Berr), and made possible through the generous support of SNCF.
Other support came from the Consulate General of France in Los Angeles, the Embassy of France in the United States, the Consulate General of Israel in Los Angeles, the Jewish Federation of Greater Phoenix, East Valley JCC, Alliance Française of Greater Phoenix, and SNCF.
###
Scottsdale Community College is one of the 10 regionally accredited Maricopa Community Colleges, and a premier two-year higher education institution that serves the needs of its diverse communities by providing innovative and creative opportunities to learn, grow and achieve. We offer affordable, high-quality instruction to traditional and non-traditional students, career-minded professionals and life-long learners.