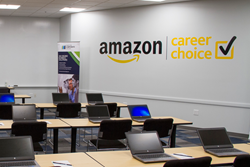 Amazon is a trendsetter in every sense of the word and I think a lot of this is going to continue to happen on a much broader scale over the next 10 years. We are very happy to partner with Amazon. --Dr. Eugene Giovannini, MCOR President
Scottsdale, AZ (PRWEB) June 04, 2015
Maricopa Corporate College (MCOR), members of Amazon leadership, and Arizona State Representative Diego Espinoza gathered at a special event on Wednesday, May 27 to celebrate the official opening of Amazon's new onsite classroom.
Since the onsite class program launched in 2014, MCOR has provided local Amazon associates with a wide variety of classes at the PHX6 fulfillment center. However, until now, students did not have a traditional classroom to call their own.
The addition of the onsite Career Choice Classroom will provide students with a comfortable educational environment, making it even easier for them to take advantage of the courses offered through MCOR. The first-of-its-kind classroom is equipped with the same amenities you would find on a college campus without Amazon associates having to worry about transportation, commute times, or fitting class into busy work and life schedules.
As part of this innovative program, Amazon pays 95% of tuition for courses related to in-demand fields, regardless of whether those courses are relevant to positions at Amazon. The goal of this program is to give all of their associates the choice to pursue their passion.
"We're very inventive about the things that we do, including how we're going to manage things for our associates and hopefully allow them an opportunity to come and take classes in high-paying, high-demand roles so if they don't want to stay with Amazon, they can step away and they can pursue their passion," Marv Cunningham, general manager for the PHX6 facility, said.
The new classroom has already caught the attention of many of the center's 1,500 associates, which, according to Cunningham, is no accident. The classroom was designed with large windows across one side so that associates could see their colleagues learning new skills and want to get involved.
Currently, MCOR offers three unique programs to Amazon's Phoenix associates: a Certificate of Completion (CCL) in Accounting, CompTIA A+ Certification, and Pharmacy Technician Certification. As the excitement builds around these programs, MCOR and Amazon leadership anticipate expanding upon current program offerings.
MCOR President Eugene Giovannini views this partnership as a great opportunity and hopes that other companies will create similar programs for their employees.
"Amazon is a trendsetter in every sense of the word and I think a lot of this is going to continue to happen on a much broader scale over the next 10 years," Giovannini said. "We are very happy to partner with Amazon."
The MCOR-Amazon partnership is just one example of how MCOR assesses employer needs and develops custom business solutions. Companies interested in working with MCOR to meet their individual workforce needs are encouraged to call (480) 377-2700.
About Maricopa Corporate College (MCOR):
From entry-level to executive training, MCOR delivers market-relevant, customized workforce solutions and education for employees in virtually every industry sector. Through a strategic business partnership model, MCOR assesses workforce training needs and develops and delivers customized and integrated solutions to meet those needs throughout all levels of an organization. MCOR is part of the Maricopa Community Colleges — one of the largest higher education systems in the nation with nearly 250,000 students, and a model of excellence internationally.