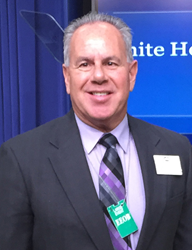 Training and job opportunities are no longer mutually exclusive. We must include the final stage, which is employment. --Dr. Eugene Giovannini, MCOR President
Scottsdale, AZ. (PRWEB) September 19, 2015
Maricopa Corporate College (MCOR) president, Dr. Eugene Giovannini, has been invited to participate in a panel at the United States Conference of Mayors Workforce Development Council (WDC) Board Meeting on September 21, 2015 in Washington D.C.
The council selected Giovannini as one of three participants in the "Community College Panel," which will discuss how local workforce development boards and community colleges can work together in order to better serve the workforce.
Strategies for collaboration between workforce development boards and community colleges are critical for advocacy on legislative initiatives and ultimately for building a stronger workforce. The panel discussion will focus on the current relationship between these two entities, as well as where these partnerships need to be in order to successfully address workforce needs.
"We cannot continue to focus on how many people we are training. Instead, we must turn our attention to how many are getting hired," Giovannini said. "This is where workforce development boards and community colleges can partner together to create higher success standards."
Part of this success will rely on creating career pathways that are more about employment than degrees and certifications. Today's completion agenda must include job opportunities and employment.
"Training and job opportunities are no longer mutually exclusive," Giovannini said. "We must include the final stage, which is employment."
Giovannini will be joined by David Baime, senior vice president for government relations and policy analysis for the American Association of Community Colleges (AACC), and Linda Head, vice chancellor for workforce education and corporate partnerships at Lone Star College. The panel will be moderated by Rick Beasley, president of the Workforce Development Council.
The U.S. Conference of Mayors(USCM) is the official non-partisan organization of cities with populations of 30,000 or more. Each of the 1,400 cities within this organization is represented by its mayor. Some of the primary roles of this organization include promoting the development of effective national urban/suburban policy and ensuring that federal policy meets urban needs.
The Workforce Development Council (WDC) is a division of the USCM that influences and advocates for workforce funding, influences workforce-related regulations and legislation, and builds partnerships and visibility as workforce development experts. The council works to increase employer engagement for youth employment and influence youth-related regulations as well.
About Maricopa Corporate College (MCOR):
From entry-level to executive training, MCOR delivers market-relevant, customized workforce solutions and education for employees in virtually every industry sector. Through a strategic business partnership model, MCOR assesses workforce training needs and develops and delivers customized and integrated solutions to meet those needs throughout all levels of an organization. MCOR is part of the Maricopa Community Colleges— one of the largest higher education systems in the nation with nearly 250,000 students, and a model of excellence internationally.