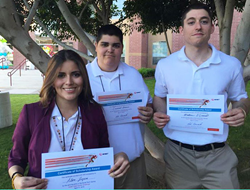 Scottsdale, AZ (PRWEB) April 26, 2015
A three-person team of Computer Information Systems students from Scottsdale Community College (SCC) won the Green Data Center Challenge during the 2015 Avnet Tech Games earlier this month.
The winning team members were Alba López Nájera, Matt O'Donnell and Cris Romero. Each received a $1,000 scholarship for their winning performance. Their faculty coaches were Ron Monroig and Dr. Sheila Brandt.
Four SCC teams competed in three categories during the April 11 event at the University of Advancing Technology in Tempe, AZ.
The games featured more than 200 students making up about 70 teams from Arizona community colleges and universities, including Arizona State University, University o of Arizona and the University of Advancing Technology. Fourteen community colleges participated in this year's competition.
In the Green Data Center Challenge, teams presented their plans to design a green data center. The SCC team's presentation included eco-friendly solutions, virtualization and location preference.
"I felt it was the best game to compete in," said Romero. "We were able to put the work in ahead of time, get to know the material and prepare yourself to answer the questions and be knowledgeable about different aspects of the data center and virtualization."
Dr. Brandt worked with the students on their presentation.
"They were able to draw on their research to defend their solution," she said. "They did a great job of preparing and were truly professional and poised under pressure."
A panel of judges, which included technology executives, engineers and other business leaders, selected the winners based on each team's ability to meet the technical requirements of the task, apply innovative approaches to the solution and demonstrate professional skills.
SCC has been competing in the Avnet Games since 2005, with Monroig serving as faculty coach from the inception.
"It basically raises awareness that community colleges can compete with four-year colleges with respect to technical knowledge," he said. "It also raises awareness to industry and the surrounding businesses about our students and their readiness for internships and entry-level positions."
Scottsdale Community College is one of the 10 regionally accredited Maricopa Community Colleges, and a premier two-year higher education institution that serves the needs of its diverse communities by providing innovative and creative opportunities to learn, grow and achieve. We offer affordable, high-quality instruction to traditional and non-traditional students, career-minded professionals and life-long learners.