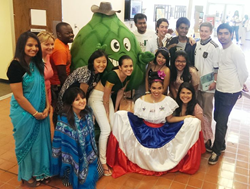 Scottsdale, AZ (PRWEB) April 23, 2015
In 2012, Scottsdale Community College made a pledge to ensure civil rights for all and oppose any manifestation of bullying, harassment, hatred, and prejudice towards any group or individual.
Scottsdale Community College presents "The IN Thing" on Thursday, April 23, 2015. This is a full day of programming to help celebrate inclusiveness, sustainability, cross-cultural awareness and more as part of Inclusiveness Month.
The IN Thing is part of the school's awareness campaign called "Be In: Informed, Involved and lnclusive," which launched last year. This year's events are presented by the SCC Inclusiveness Council, Student Inclusiveness Leadership Team, Sustainability Action Council and the Center for Civic and Global Engagement.
The events will be spread around campus. SCC is located at 9000 E. Chaparral Road, Scottsdale, AZ.
All events are free to attend and open to the public.
They include panel discussions, film screenings, student club tables and demonstrations, and a country fair.
The day will start off with a Native American blessing and performance in the morning, salsa dancing instruction and performance at 11:15 a.m, followed by an all-in flashmob at 11:50 a.m. Those events will be in Two Waters Circle. Meanwhile, a documentary screening in the Turquoise Room will examine the battle over ethnic studies in the Tucson Unified School District followed by panels on topics such as ways to overcome discrimination and the benefits of speaking more than one language.
In recognition of the Earth Day celebrations, participants can be part of a geocaching contest, bid on recycled chairs and/or tour the Center for Native and Urban Wildlife to see native species. A film festival at the school's Film School will feature several screenings, including "Girl Rising," which will be followed by a Q&A discussion with one of the filmmakers.
For more information and to view the full program, visit http://bit.ly/1yrMhH1.
###
Scottsdale Community College is one of the 10 regionally accredited Maricopa Community Colleges, a premier two-year higher education institution that serves the needs of its diverse communities by providing innovative and creative opportunities to learn, grow and achieve. We offer affordable, high-quality instruction to traditional and non-traditional students, career-minded professionals and life-long learners.