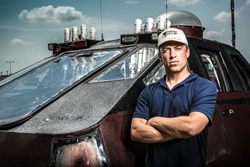 Tempe, AZ (PRWEB) September 14, 2014
Reed Timmer (of Discovery Channel fame for Storm Chasers and When Nature Strikes) will deliver the first of four Maricopa Community Colleges Honors Forum lectures next Wednesday, September 17.
Having intercepted more than 250 tornadoes and a dozen powerful hurricanes during the last decade, Reed Timmer is well known as the most successful and extreme storm chaser in the world. He is one of a few to document a F5 tornado and the most devastating hurricane in U.S. history, Hurricane Katrina.
He was the first person in history to capture high definition video inside a tornado.
Each year, Maricopa Community Colleges hosts the series, bringing in internationally recognized speakers based on a theme. This year's theme is Frontiers and the Spirit of Reed Timmer has appeared in programs on all major news networks, including Good Morning America with Diane Sawyer, CNN with Wolf Blitzer, CBS, NBC, and The Weather Channel.
WHEN: Wednesday, September 17, 2014 - 7:00 p.m.
Mesa Community College, Lawn Tent
1833 West Southern Ave., Mesa, AZ 85202
The Maricopa Community College system includes 10 regionally accredited colleges – Chandler-Gilbert, Estrella Mountain, GateWay, Glendale, Mesa, Paradise Valley, Phoenix, Rio Salado, Scottsdale and South Mountain. It also includes the Maricopa Skill Center, Southwest Skill Center, Maricopa Corporate College and several satellite campuses and business/industry, technical and customized training institutes.
The Maricopa County Community College District is an EEO/AA institution and an equal opportunity employer of protected veterans and individuals with disabilities.