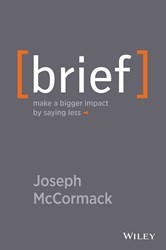 In our attention-deficit economy, being brief is what's desperately needed and rarely delivered. When we fail to be clear and concise, the consequences can be brutal: wasted time, money and resources, decisions made in confusions, worthy ideas rejected.
Hoboken, NJ (PRWEB) February 19, 2014
In business, if the person speaking doesn't get to the point and insists on rambling, his or her listeners will quickly conclude that the speaker either doesn't have a point, or it's not worth their time to listen. Either way, the speaker has struck out.
That's the message of "BRIEF: Make a Bigger Impact by Saying Less", by Joseph McCormack. As founder of the boutique marketing agency The Sheffield Company, a firm that helps clients such as Harley-Davidson, BMO Harris Bank, MasterCard, and W. W. Grainger get their stories straight, McCormack knows that being concise is a rare skill.
BRIEF explains how narrative mapping and other strategies have helped organizations and companies revive their presentations and solidify themselves in the minds of their audiences. The U.S. Special Operations Command was able to use storytelling to turn long, convoluted mission-critical briefs into clear and compelling narratives; Boeing found success with mind maps; and Herb Kelleher's thrifty, focused communication style turned Southwest Airlines into a new, fun type of airline. Over at Apple, Steve Jobs' style made history itself.
McCormack tells us that the human brain can process about 750 words per minute, or five times what the average person speaks (150 words per minute). The difference—600 words, what he calls "The Elusive 600"—is what listeners are thinking about when they're not soaking up the speaker's words.
"While someone is speaking, you have 600 extra words per minute to think other thoughts," McCormack says. "Your mind's spare bandwidth is always present when you're speaking or listening."
In our attention-deficit economy, being brief is what's desperately needed and rarely delivered. When we fail to be clear and concise, the consequences can be brutal: wasted time, money and resources, decisions made in confusions, worthy ideas rejected.
For businesses to succeed in this information-laden and hyper-busy economy, the rambling has to stop. BRIEF contains a step-by-step approach to get to the point quickly, including TIPs (Truths, Implications, Plans/Practices) to help deliver the real impact of less is more:

Your attention, please. Manage the Elusive 600 (the excess mental capacity we all have and where inattention lives).
Why, why, why? Get to the reason quickly, and revisit it.
Map it out. Prepare what you'll say on paper before you dare speak.
Give me a headline. Say it plainly, directly, and quickly.
Take time to trim. Just because you think it, doesn't mean you have to say it.
Listen closely. Active listening is vital to staying connected with your audience.
Use the power of threes. Organize information in groups of three to keep order, attention, and balance.
Paint a picture. Share a story, analogy, or even a hypothetical example to help people visualize what you mean.
"Your best strategy to convince your boss to ditch the monologue moments is to frame the issue not as a remedial managerial quirk but as a pressing leadership trend," advocates McCormack. "Set the brevity standard and lead by example – enough said."
Long story short: BRIEF will help readers gain the muscle they need to eliminate wasteful words and stand out from the rest. Be better. Be brief.
About the Author:
Joseph McCormack is on a mission to help organizations master the art of the short story. An experienced marketing executive, successful entrepreneur and author, Joe is recognized for his work in narrative messaging and corporate storytelling.
A passionate leader, he founded The BRIEF Lab in 2013 after years dedicated to developing and delivering a unique curriculum on strategic narratives for U.S. Army Special Operations Command (Ft. Bragg, NC). He actively counsels military leaders and senior executives on key messaging and strategy initiatives. His clients include W.W. Grainger, Harley-Davidson, USG Corporation, BMO Harris Bank, SAP, MasterCard, Heinz, Hoffman-La Roche and Jones Lang LaSalle.
He founded and serves as managing director and president of The Sheffield Company, an award-winning boutique agency. In 2010, he launched Navigant Studios as a new business line that specializes in short-form visual media and storytelling production. He speaks at diverse industry and client forums on the topics of messaging, storytelling, change and leadership.
Previously, he served as SVP, Corporate Marketing at Ketchum, a top five marketing agency in Chicago where he introduced new service models to enhance messaging and deepen relationships with market influencers.
He received a BA from Loyola University of Chicago in English Literature where he graduated with honors. He is fluent in Spanish and has broad international experience. He, his wife Montserrat and children live in suburban Chicago.
For more information, please visit http://www.thebrieflab.com/book/.