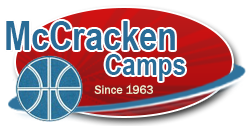 Basketball must be fun, and players should look forward to going to the gym. We work to make learning how to play basketball interesting and enjoyable.
San Rafael, CA (PRWEB) March 25, 2014
US Sports Camps, Inc. are pleased to celebrate the launch of the new McCracken Camps website at http://mccrackencamps.com/ with the summer schedule announcement.
The McCracken Basketball Camp schedule features camps across the Midwest with locations in Indiana, Michigan and Wisconsin. The camp lineup is headlined by the signature overnight locations of Adrian College (MI), Olivet College (MI) and Huntington University (IN), as well as new day camp locations in Antwerp, OH and Saline, MI.
The new website features all camp locations, schedules, details, easier navigation, along with a sleek new design. "The new website offers a contemporary look, a streamlined user experience, and features enhanced resources and functionality for our campers and families. The redesigned website is a fantastic upgrade and the site now matches the quality of this camp program." said Brent Koonce, VP of Basketball Operations for US Sports Camps.
On the court, director Todd German and his staff continue to offer the quality instruction that has been the camp's trademark for over 50 years. Coach German began attending as an 11 year old camper in 1974, worked as a counselor while in college, was Dave McCracken's assistant director for nearly twenty years, and has been the director for the last fourteen.
The two long-stated goals of The McCracken Basketball Camp are that each camper should, one; have fun and two; learn to become the best player that he or she can possibly be.
"I think that basketball must be fun," stated Coach German, "and that players should look forward to going to the gym. We work to make learning how to play basketball interesting and enjoyable. Making things fun doesn't mean not working hard. Hard work can be very fun, if approached with the right attitude. Just ask any of our former campers about our Defense Day or Stations." German went on to say, "we also feel that being positive and offering encouragement when teaching basketball is very effective in improving a player's confidence and interest in the game."
About US Sports Camps
Celebrating it's 40th year, US Sports Camps (USSC), headquartered in San Rafael, California, is America's largest sports camp network and the licensed operator of NIKE Sports Camps. The company has offered summer camps since 1975 with the same mission that defines it today: to shape a lifelong enjoyment of athletics through high quality sports education and skill enhancement.
Players, coaches, parents and others interested in the McCracken Camps can visit http://www.McCrackenCamps.com or call 1-800-645-3226.