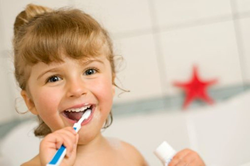 More than half of California's emergency room visits for dental problems are from children six and younger
Los Angeles, CA (PRWEB) February 23, 2016
According to an article published February 11th on the Merced Sun-Star, too few children are getting the preventative dental care they need; and as a result, more than half of California's emergency room visits for dental problems are from children six and younger. Commenting on this article, West Hills, California-based Medical Center Dental Care notes that this phenomenon is due in part to an overall lack of preventative dental care, which is crucial for children. While some may dismiss the importance of ingraining healthy oral hygiene patterns in youngsters who are expected to lose their baby teeth in a number of years, the clinic urges parents to take measures to reduce the rate of tooth decay, as it is one of the more common health problems faced by young children. What's more, the clinic notes, is when children resort to emergency room visits to have dental problems treated, they are missing out on school and missing out on other important activities and often dealing with some genuine pain. Thus, the clinic notes, poor oral hygiene can have detrimental effects on a child's overall quality of life.
Medical Center Dental Care notes that, while most people are aware of the health benefits of brushing and flossing regularly, people aren't usually aware of the negative implications on physical health poor dental hygiene can have for patients both young and old. For starters, if teeth begin to break down, as in the case of tooth decay, bacteria can multiply and spread to other parts of the mouth, necessitating additional medical services. What's more, periodontal disease is a serious issue which affects a great many Americans each year, the clinic explains. In fact, according to the American Association of Dentistry, three out of every four Americans are experiencing some form of gum disease, often without their knowledge.
Fortunately, preventative care and early treatment can be quicker and more comfortable than many patients expect, notes Medical Center Dental Care. Especially when considering the needs of some of the youngest patients, the clinic is staffed by pediatric specialists on their team who are trained to properly interact and care for children. One of these, Dr. Magnolia Becker, is a pediatric dentist who has been part of the clinic's team for many years. The clinic notes that Dr. Becker is not only excellent at providing preventative care to children, but at supporting all members of the family in establishing healthy oral hygiene habits.
While other Los Angeles-based dental practices may offer a similar range of services as Medical Center Dental Care, few can offer them at such a consistently high level of care. The practice has received a great number of positive reviews by former and current patients, and currently maintains a five-star rating on Yelp, the community ratings website. For any more information about Medical Center Dental Care, or to schedule an appointment today, please call their offices at (818) 452-0038 or visit the practice's website at http://www.MC-WestHillsDentalCare.com.