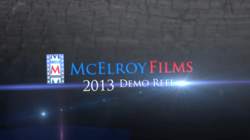 McElroy Films is happy to work with such an incredible diversity of businesses and non-profits and to be able to offer them top-quality, award-winning production value
Boston, MA (PRWEB) July 09, 2013
McElroy Films LLC is proud to release this year's Demo Reel. Comprised of footage from corporate, non-profit, and mass media clients, in 2012 and 2013, this summer's reel is one of the best to come out of the Boston-based video production company.
"Yet again we have been able to build off of the successes of 2012 and expand our network of clients and services," explained Benjamin McElroy, owner and executive producer. "I'm very happy to work with such an incredible diversity of businesses and non-profits and to be able to offer them top-quality, award-winning production value."
The staff at McElroy Films has added more honors winning several Telly awards for videos produced for non-profits Fenway Health and the Montachusett Veterans Outreach Center as well as recognition for outstanding event videography.
However, the true successes of the past year come in the form of celebrity.
"We had the honor of producing a music video at Fenway Park with none other than William Shatner," Ben smiled. "He was a joy to work with and made an already special night that much better."
'At Fenway', featuring Brian Evans' hit song of the same name, now has over 11 million YouTube views since its release on the opening day of the 2013 Red Sox season. On top of that, the trailer for the video was played before every movie in AMC theaters nationwide between January and April.
"Every video can impact people in so many ways online and on TV, but there is nothing like seeing your hard work up on the silver screen with the potential of reaching millions of movie-goers," Ben mused. "The feeling is incredible."
In addition to Shatner, the McElroy Films team very recently interviewed news legend Bob Schieffer of Face the Nation, an advocate for the Crohn's and Colitis Foundation of America and a longtime sufferer of Crohn's disease himself.
Also, in a video for the non-profit Facing Cancer Together, a Newton-based support group for cancer patients, loved ones, and survivors, the McElroy team had the chance to work with local news stalwart Bob Lobel as he interviewed the participants and volunteers that help make FCT a reality.
Both the CCFA and FCT videos are set for release later this year.
"I think it's very important, as a business owner, to branch out and bring more production tools to the table for our clients," Ben said. "So this year we have added more graphic animation options."
McElroy Films now produces graphics-heavy videos featuring doodle animation as well as animated text videos. Both styles have become popular on a national scale, but are within reach to clients looking for something different. In early 2013, McElroy Films produced a 30-second graphic video for the CCFA Take Steps program that was shown during national broadcasts.
"Businesses are trying to look different and trying to stand out," Ben explained. "Using alternative, visually stimulating videos can do that without breaking the bank."
2012 and 2013 were also heavy with new product videos featuring everything from household fans, humidifiers, spa products, and bug zappers. The McElroy team took each video from script to screen, using state-of-the-art lighting to help sell the products on the web and television. Videos produced for PUR, featuring the faucet-mounted filter, play at every BJ's Wholesale Club in the world and footage from various products has played on shopping channels such as HSN and QVC.
"We have become a go-to company for table-top product videos. We can script, cast actors, and professionally light scenes to really bring out the best features of every product," Ben said.
From commercials to internet 'how-to' videos, product-first shooting is a staple of every successful business looking to sell a product.
With McElroy Films success has come the benefits of working with high profile people from David Friend, CEO of Carbonite, to William Shatner, but also, a resolve that every project is important and every message in need of a strong work ethic and delivery.
"It has always been our policy to strive for the highest quality at the best possible cost," Ben extolled. "Now that even more businesses and organizations trust us with their video needs, I have no doubt that, just like last year and the year before, we will have achieved even greater success."
ABOUT MCELROY FILMS
McElroy Films LLC is an award-winning producer of high definition video for corporate, educational, non-profit, wedding, music video, and independent film use. Serving the Massachusetts and New England area, McElroy Films' mission is to keep high definition video affordable without sacrificing quality. McElroy Films has assisted organizations throughout the Boston area increase their revenues and awareness by drawing in new clients and educating existing ones with concise, effective videos for the web and broadcast.