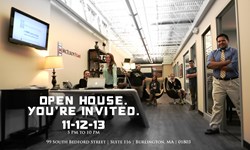 "We hope that when clients come in and see us here that they start to feel the same energy and excitement that we do when we walk into work," Ben mused.
Burlington, MA (PRWEB) October 31, 2013
For Benjamin McElroy and his video production company, McElroy Films LLC, the journey from conception to a new, state-of-the-art studio in the thick of corporate New England has been remarkably fast-paced.
"I wanted to strike out on my own," Ben reminisced. "But that meant I had to start at the bottom, in my basement, and work very hard. Thankfully, the success of the business has come much quicker than I ever could have ever hoped."
In just three years, McElroy Films went from the suburban basement to prime real estate in Burlinton, MA, adding 7 full-time employees and a wide array of clients and services.
McElroy Films new location at 99 South Bedford Street, Suite 116 in Burlington, MA houses a staff of 4 editors, 2 sales and marketing personnel, additional videographers, and producers. The new studio features a 3D Project Room, 2 full editing suites, green screen studio, teleprompter, and open concept workstations.
"I wanted a floor plan and interior design that reflected our creativity and our industry. The office is a combination of the timeless elegance of an old Hollywood studio and the futuristic feel of the modern era."
With clients ranging from corporations, to non-profits such as the Crohns & Colitis Foundation of America, Fenway Health, and the Habitat for Humanity as well as healthcare giants, Children's Hospital, and many more, the ambience is intended to welcome clients from all industries into the creative business of video production.
"We hope that when clients come in and see us here that they start to feel the same energy and excitement that we do when we walk into work," Ben mused.
McElroy acknowledges that clients from some industries can be intimidated by the prospect of entering into a studio and production in general, which is why he enjoys taking the time to talk with every client about the video production process and the ways video can improve sales, branding, as well as building a strong social media presence.
"Any business strategist will tell you that SEO (Search Engine Optimization) is the best way to take advantage of the online marketplace," Ben explained. "Videos are strong catalysts for website ranking and getting seen on search engines like Google, Bing, and YouTube."
McElroy Films prides itself on its client-driven mentality and boutique-like service by dedicating to each project the attention it deserves. Every project is customizable from start to finish and budgeted according to a client's specific needs. With award-winning editors, and accomplished cinematographers, their work has been featured on ABC World News, the Today Show, NESN, and more in addition to creating videos catered to their clients for their websites, DVDs or events. The team translates the newest innovative video technology into understandable terms and can guide clients towards possibilities they may not know exist.
On November 12th, 2013, McElroy Films will be hosting an open house for current and potential clients, as well as any and all curious about the new studio. The doors will open at 5 PM and include light refreshment.
"We have worked exceptionally hard over the years and we are really excited to welcome all the people and businesses that have helped make everything possible for us," Ben exclaimed. "This company has been one of the most rewarding aspects of my life. Every project is great, and I can't wait to see what's next."
If you and your company would like to inquire about video production from McElroy Films LLC or tour the new office, call (888) 303-2744 x 703, visit their website at http://mcelroyfilms.com, or visit the new office at 99 South Bedford Street, Suite 116, Burlington, MA 01803.