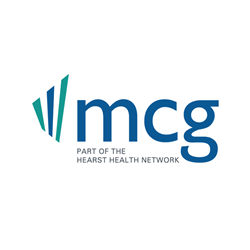 MCG experts, Rajesh Godavarthi and Conor Bagnell, will discuss how new technologies such as the HL7® Da Vinci Project FHIR® standard and artificial intelligence (AI) are transforming the health IT landscape.
SEATTLE (PRWEB) December 07, 2021
MCG Health, part of the Hearst Health network and an industry leader in technology-enabled evidence-based guidance, announces two of its resident experts will participate in panel discussions at the Healthcare Innovation Group's 2021 Pacific Northwest Virtual Summit + Cybersecurity Forum on December 14, 2021. The event is part of the Healthcare Innovation Summit Series which seeks to promote improvements in healthcare quality, safety, and efficiency by sharing best practices from organizations that are leading change in technological innovation.
MCG Associate Vice President of Technology and Interoperability, Rajesh Godavarthi, will join the panel discussion, "Health Data Sharing Advances: Going from Connectivity to Interoperability." Mr. Godavarthi was recently named the official co-lead for burden reduction use cases at the HL7® Da Vinci Project, and he will share how their development work on the new HL7® FHIR® standard supports seamless, automated prior authorization and real-time communication between hospital electronic health record systems (EHRs) and payer utilization management platforms. Anna Taylor, MS, the Director of Operations at MultiCare Connected Care, and Heidi Kriz, MPH, RD, the Assistant Director Medical Policy and Prior Authorization (PA) Transformation Business Lead at Regence Health Plans will also join the discussion to contribute perspectives from both the care provider and payer. The panelists will also discuss policy, operational, and technological advances taking place in the interoperability space with a focus on current challenges and strategies for success.
On the topic of artificial intelligence, MCG Sr. Vice President of Product Management and Strategic Alliances, Conor Bagnell, will participate in the session, "The Power of Data: Applying Analytics & AI to Transform Healthcare." This panel will feature industry leaders discussing how clinical and operational areas are being transformed by data analytics and artificial intelligence (AI). Panelists will share achievements in leveraging data analytics and discuss the emergence of AI and machine learning and their potential to accelerate progress.
Mr. Godavarthi has been with MCG Health since 2002. MCG is an Associate Member of the HL7® Da Vinci Project and Mr. Godavarthi leads the development efforts for that partnership. Prior to MCG, he was the Development Lead at Milliman and a lead developer at Intel. He received his Master's in Computer Science from Osmania University.
Mr. Bagnell leads the direction and development of products, services, and strategic partnerships at MCG. Prior to joining MCG, he was the Associate Vice President of Product Management and Director of Engineering at TriZetto Group, one of MCG's key strategic alliance partners. Conor has over 20 years of experience in the healthcare technology sector. He graduated with a Bachelor of Science from the Cork Institute of Technology in Ireland and earned his Executive Master of Business Administration at Northeastern University in Boston, Massachusetts.
The Pacific Northwest Virtual Summit + Cybersecurity Forum event is free for all healthcare and health IT professionals. Registration details and additional information can be found at: https://endeavor.swoogo.com/pacific_northwest_summit/Agenda
###
About MCG Health
MCG, part of the Hearst Health network, helps healthcare organizations implement informed care strategies that proactively and efficiently move people toward health. MCG's transparent assessment of the latest research and scholarly articles, along with our own data analysis, gives patients, providers, and payers the vetted information they need to feel confident in every care decision, in every moment. For more information visit http://www.mcg.com or follow our Twitter handle at @MCG_Health.
About Hearst Health
The mission of Hearst Health is to help guide the most important care moments by delivering vital information into the hands of everyone who touches a person's health journey. Each year in the U.S., care guidance from Hearst Health reaches 85 percent of discharged patients, 205 million insured individuals, 103 million home health visits, and 3.2 billion dispensed prescriptions. The Hearst Health network includes FDB (First Databank), Zynx Health, MCG, Homecare Homebase and MHK (formerly MedHOK). Hearst also holds a minority interest in the precision medicine and oncology analytics company M2Gen. Follow Hearst Health on Twitter @HearstHealth and LinkedIn @Hearst-Health.